A large kiddie-sized pool filled to the brim with Flamin' Hot Cheetos. Cardboard cut-outs celebrating a quinceañera. At first, they don't seem to have much in common. But both connect to themes that run through much of Jazmín Urrea's visually striking work: an exploration of her Mexican and Honduran cultures and food. "Food makes it so you can relate with everyone," she says. "Everyone has a food story."
Urrea (Art MFA 17) grew up in South Los Angeles, where she lives to this day. It was here, during a senior-year journalism class, that she developed an interest in photography, capturing images to accompany articles. It was also where, in middle school, she and her friends stopped at convenience stores before and after school to fill up on Gatorade, spicy candies, and her favorite snack: Flamin' Hot Cheetos. We're not talking about those little vending machine baggies. We're talking jumbo-size bags, which she'd consume all day long. Eventually she reached a point where she was subsisting mainly on Cheetos, swapping them for breakfast and snacking between and after lunch and dinner. Dessert? Hot Cheetos.
One night, Urrea woke up shivering and her mother took her to the ER. At first, doctors weren't sure what was causing Urrea's symptoms. But ultimately they determined her appendix was about to burst. She went into emergency surgery where doctors removed it. "The doctors told my mom that it was my diet," she said. "Essentially, the dyes and the Cheetos irritated my appendix." The worst part? "As I was recovering, I was literally asking them, 'So, I can still eat hot Cheetos, right?'" Yes, they told her, in moderation.
But as a kid, Urrea really had no guidance as to what a balanced or healthy diet entailed. She also had no idea that she lived in a food desert: an urban area where access to fresh, healthy, and affordable food is limited, which can lead to a variety of health conditions, including diabetes and hypertension.
A 2018 study from the Center for Urban Resilience and Loyola Marymount University found that while South LA grocery stores had fresh, local produce, such stores were few and far between. About 94% of all food stores were actually convenience stores. There were also 12.5 times more fast food restaurants than grocery stores. For Urrea, if it hadn't been Cheetos, it likely would have been another highly processed snack.
It wasn't until she began carpooling and driving between her South LA home and CalArts that, she says, "I started seeing how much more accessible grocery stores and healthier foods were in Santa Clarita and Valencia." Her work since has often explored the concept of food deserts and her personal experience living within them, often imagining them as "alien landscapes."
In Imperishable, part of LA's 2019 Public Art Triennial Current:LA Food, which featured art installations across 15 public parks, Urrea filled six 8-foot-tall Plexiglas towers with Flamin' Hot Cheetos. They stood in a circle in South LA's Martin Luther King Jr. Park. She describes the piece as one of the most difficult she's made, requiring her to work with a structural engineer and a construction crew to ensure the pillars and their concrete bases were stable and wouldn't collapse. Though individual Cheetos seem airy, each tower weighed between 800 and 1,000 pounds. "I wanted you to feel like you were encased by Cheetos—a sense of drowning in them," Urrea says. "I just wanted you to feel what it's like to live in that world—surrounded by so much of something that is considered super bad for you. It's standing as a representation of what certain communities are facing."
Other works have incorporated Cheetos as well. In RED 40, Urrea's 2017 CalArts thesis project, she filled a pool with about 300 pounds of the puffed cornmeal. The title comes from the particular artificial dye that gives Flamin' Hot Cheetos their searing red color.
In I Saw Red at Gallery Sade in Lincoln Heights, Cheetos lined the floor of a Technicolor labyrinth, its walls plastered with photographs of candies. The Cheetos crunched underfoot as guests navigated the maze, filling the air with what Urrea describes as the snack's "pungent, disturbing odor." (Weirdly, some people asked if they could eat them. Urrea had to warn them that they weren't exactly in a sanitary setting.)
After dabbling in photography in high school, Urrea enrolled at Cal State Long Beach, where she earned a BA in Fine Art Photography (2014). "I always like to say that photography gave me an outlet to turn the camera on myself, to immediately document all of my surroundings and just explore my environment," she says. "It was a gateway to explore all these different narratives."
During her undergrad years, she began taking self-portraits in which she cast herself as a variety of stereotypes often directed at Latinos/Latinx people like her and her family. "People would assume I was gonna be a chola or that I was gonna end up pregnant and drop out of school," she says. She turned those self-portraits into life-size cardboard cutouts, then photographed them in various real-world scenes: a leering construction worker standing on a loading dock, a pregnant woman in a tube top flashing the peace sign outside a discount fashion store, a woman in a low-cut top and blonde wig smiling in the front window of a trendy boutique.
After graduating, Urrea took a gap year before applying to a handful of art schools. When she received her acceptance letter from CalArts, she was "ecstatic." To honor the achievement, she wanted to create another cutout piece that, rather than addressing stereotypes, paid tribute to her background, "like a coming-of-age celebration."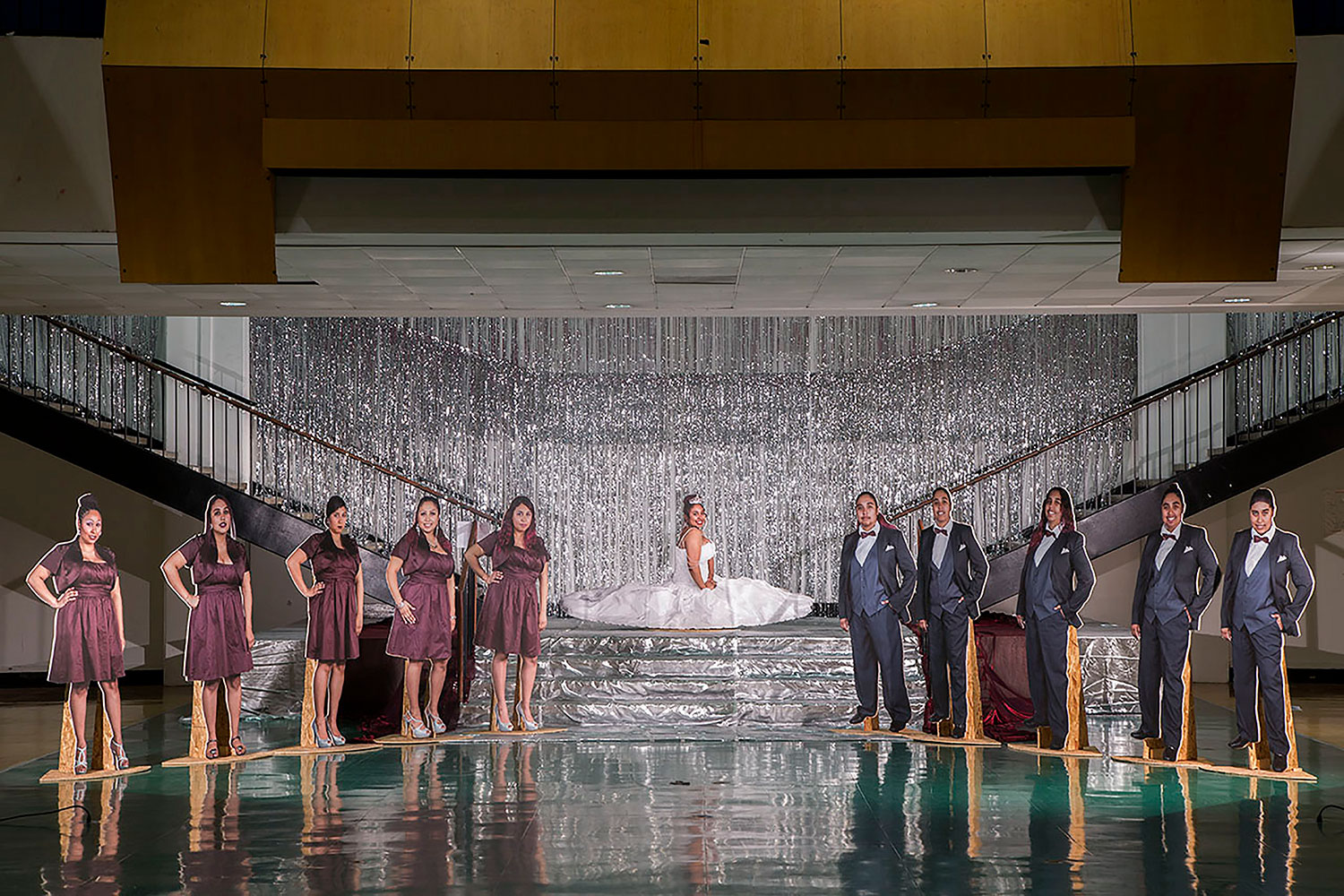 Well before they reached Urrea's age, many Latinas would have had a quinceañera, a coming-of-age celebration that marks a girl's transition to womanhood on her 15th birthday. For the occasion, the girl usually dons a beautiful dress and is surrounded by family and friends. The tradition is marked with lots of food, photos, and dancing.
Urrea's mother, however, found quinceañeras unnecessary, so Urrea never had one—but her cutouts did.
For Quince Años, Urrea posed her cutouts in CalArts' Main Gallery and lit them like performers on a stage, where they stood greeting entrants with their smiles. Urrea put herself in every cut-out: the birthday girl in a beaded white dress and tiara with her court of honor. The artist wore burgundy dresses and heels as the girls and black tuxes as the boys. For the show's opening, she threw, well, a quinceañera replete with music, tamales, and horchata. She enjoyed explaining her piece during critiques to those from other cultures who were unfamiliar with the custom, as well as hearing from those who thanked her for showcasing their shared backgrounds. "And because I had been working with negative associations of being a Latina, it was uplifting having that conversation of positivity," she said.
Throughout her time at CalArts, Urrea appreciated its supportive faculty and the freedom to explore. "I wouldn't say necessarily everyone understood what I was doing, but they were definitely supportive, like, 'No, go for it. This is what you're here for,'" she says with a laugh.
She particularly enjoyed the mentorship of artist Harry Gamboa Jr., co-director of the Program in Photography and Media, whom she'd admired and hoped to work with when applying to CalArts. She recalls field trips exploring Downtown Los Angeles by Metro and on foot as part of his LA Urbanscape course, and how he frequently told stories about his life experiences, which would ultimately help her figure out what she was doing in her own work. "At first, you're like, 'Wait, why am I listening to this story?' But then somehow, it comes full circle," she says. "I'm an LA girl, Harry is an LA person. I think our experiences really helped create a strong relationship, and I was really happy that he was my mentor."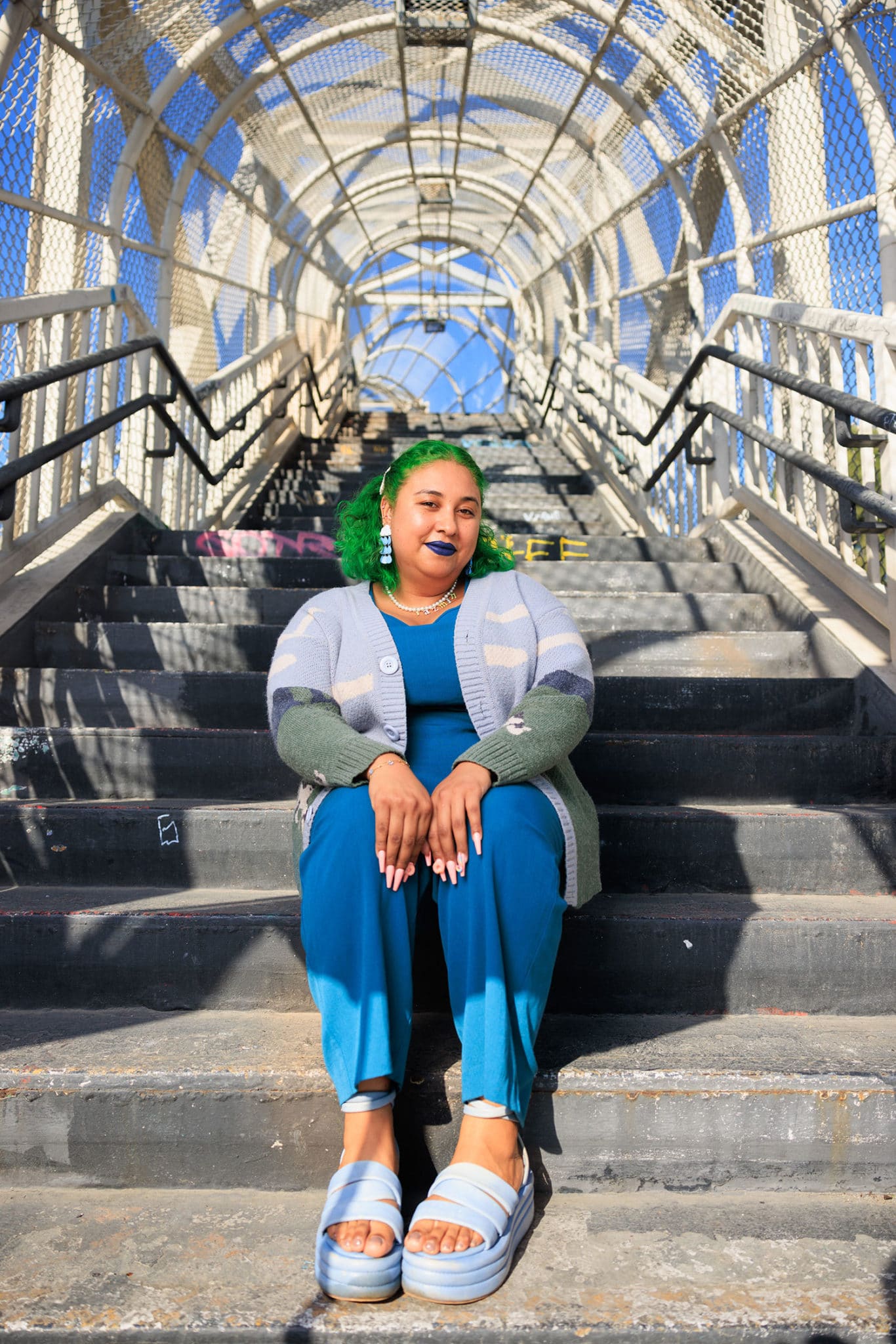 The goal of LA Urbanscape, Gamboa says, is to introduce students to "the broad socioeconomic spectrum of LA." He remembers that Urrea accompanied him on his longest exploration, a 12-hour journey from East LA to Beverly HIlls. "Along the way, we were talking about what it is to attribute an experience to a particular space," he recalls. "She was reflecting on a lot of that, and I think it was during that that she really started talking about her own experiences of having an adverse effect from eating too many hot Cheetos."
Gamboa was in Europe as Urrea assembled RED 40, but he was able to see the piece shortly before the show opened at CalArts. "It looked like that work could have been anywhere in Paris or Berlin or Stockholm," he said. "I told her this work looks like it's ready for a museum. Not everyone gets to the top of the learning curve so quickly." He recommended she reach out to local journalists. She did, and several outlets covered the project. A month later, Gamboa returned to Europe, where "all the young students were excited I knew Jazmín Urrea."
Urrea often misses the structure of academia and the collaborative environment of creative individuals who are constantly seeing and discussing one another's work. But she hasn't left academia entirely behind. Urrea taught classes with Artworx LA, a nonprofit that offers arts programming to LA students, before the pandemic shut down in-person education. She's now working at ArtCenter College of Design in Pasadena in the graduate art department. She runs the print lab and does exhibition photography, and she has the option to teach. "I just haven't figured out what I'd like to teach," she says.
The artist eventually plans to revisit her cut-outs and would love to do more public artwork akin to Imperishable. "It gave me the opportunity to bring my work to a different audience," she says. "I loved being able to have different conversations and provide a platform for people to be able to share their stories."
In the more immediate future, Urrea is working on a new sculpture series incorporating candy—and diving back into the Cheetos pool. Her newest iteration of RED 40 is part of this spring's Mexicali Biennial, on view through May at The Cheech Marin Center for Chicano Art & Culture of the Riverside Art Museum.