Upon graduating from CalArts, Don Cheadle (Theater BFA 86) scored supporting roles in such decade-defining television series as Fame, Hill Street Blues, L.A. Law, Night Court, and The Fresh Prince of Bel-Air, as well as the Vietnam War-era film Hamburger Hill and the action movie Colors. By the early 1990s, Cheadle had booked his first starring role, in the The Golden Girls spinoff The Golden Palace, which aired for two seasons on CBS.
His first major film role came in 1995, alongside Denzel Washington in Devil in a Blue Dress. That performance caught the attention of critics, earning him Best Supporting Actor awards from the Los Angeles Film Critics Association and the National Society of Film Critics, as well as nominations from the Screen Actors Guild and the NAACP Image Awards.
By the late 1990s and early 2000s, Cheadle had become a prolific actor, appearing in a range of popular and critically acclaimed films, including Paul Thomas Anderson's Boogie Nights and the Steven Soderbergh projects Traffic and Ocean's Eleven.
In 2004, Cheadle's much-lauded performance as activist Paul Rusesabagina in Hotel Rwanda garnered Best Actor nominations from the Academy Awards, the Golden Globes, and the Screen Actors Guild. That same year, he also appeared in, and co-produced, the eventual Academy Award-winning Best Picture, Crash, where he also earned a Best Supporting Actor nomination from the British Academy of Film and Television Arts. In 2010, Cheadle began starring in the blockbuster Marvel franchises: Iron Man, Avengers, and Captain America. To date, Cheadle, as James Rhodes/War Machine, has appeared in seven Marvel films.
In 2015, the actor made his directorial debut—as well as co-writing, co-producing, and starring as Miles Davis—in the unconventional biopic Miles Ahead.
On the small screen, Cheadle earned a Golden Globe for Best Actor in a Television Series and an NAACP Image Award for his performance as Marty Kaan in House of Lies, which he executive produced for its five seasons on Showtime. From 2019 to 2021, Cheadle starred in and executive produced the series Black Monday, also on Showtime.
In addition to his work as an actor, director, and producer for films and television, Cheadle produced the 2022 Tony-winning Broadway musical A Strange Loop. Cheadle also received a 2004 Grammy nomination for Best Spoken Word Album for his narration of the Walter Mosley novel Fear Itself.
An outspoken activist and humanitarian, Cheadle co-founded the nongovernmental relief organization Not on Our Watch with George Clooney, Matt Damon, Brad Pitt, David Pressman, and Jerry Weintraub, with the goal of bringing attention and aid to those suffering atrocities in Darfur and around the world. He received a BET Humanitarian Award and the Peace Summit Award by the Nobel Peace Prize Laureates for his work in support of the people of Darfur and Rwanda in 2007. Cheadle also serves as a Goodwill Ambassador for the United Nations Environment Programme, among other charitable activities.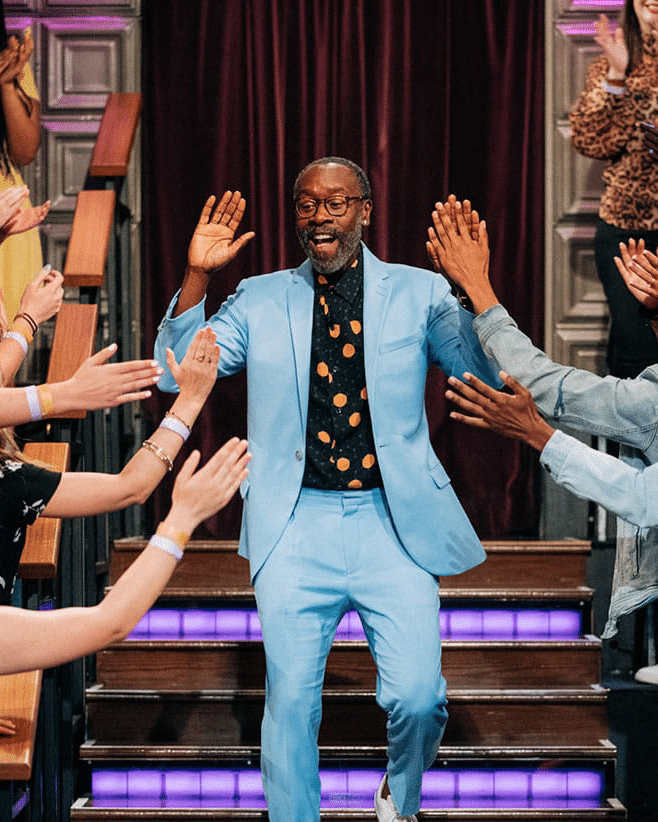 From Meisner to the Marvel Cinematic Universe
Hear from CalArts alum Don Cheadle in a Q&A with fellow alum Jo Siri.