Chris Ledesma (Music 77), former longtime music editor of The Simpsons, passed away on Dec. 16, 2022. Before stepping down from the role in May 2022, he had worked on the series since its inception in 1989, and is credited on more than 700 episodes. He was 64.
Ledesma was honored with a post-credit title card for the episode "My Life as a Vlog," which aired Jan. 1 this year. The card features a cartoon rendering of Ledesma holding a baton as he sits on the couch with the titular family.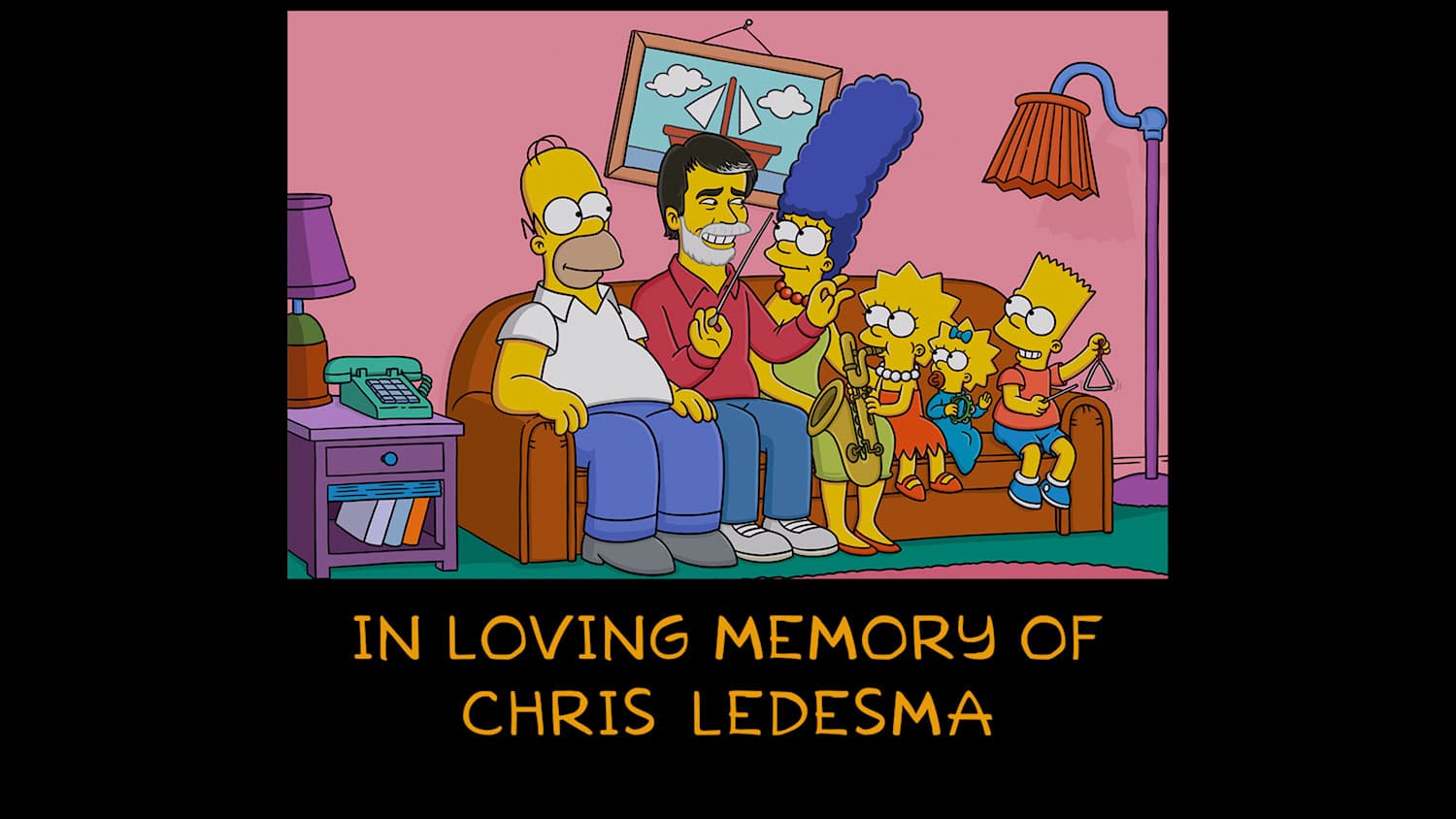 Born in 1958 in Los Angeles, Ledesma attended Hollywood High School and enrolled in CalArts. His tenure at The Simpsons can be traced back to his time at the Institute, during which he studied orchestral conducting. According to his longtime personal WordPress blog, he was walking down the halls one day when a notice for a film student seeking a composer for his thesis film grabbed his attention. At the time, Ledesma had recently completed a 12-week extension course on film scoring at UCLA, which taught him the importance of music editing. Ledesma informed the student that they needed a music editor in addition to a composer, at which the student looked at him "like a deer-in-the-headlights." He soon decided that he would take it upon himself to do both.
Though he'd go on to work on other student films (mainly in a scoring capacity), this first-ever music editing gig led Ledesma to develop an interest in a career. In 1984, Ledesma was hired as a tour guide at Universal Studio, where he spent afternoons observing live orchestral sessions and meeting music editors at the scoring stage after wrapping up his morning tours. Three years and a nine-month stint at Segue Music later, he landed a job at Music Design Group, where he would later receive his first Emmy Award nomination for his work on the miniseries War and Remembrance.
In 1989, Ledesma served as a music editor on two programs: The Tracey Ullman Show and The Simpsons. Though the latter had originally aired as a series of cartoon shorts ("bumpers") on The Tracey Ullman Show, a variety show hosted by the eponymous actor and comedian, the animated spinoff sitcom became an instant hit.
In September 2014, Ledesma conducted a portion of The Simpsons Take the Bowl, a 25th anniversary concert performed by The Hollywood Bowl Orchestra. Though originally meant to be conducted by Alf Clausen, who scored many Simpsons episodes, Clausen backed down due to shoulder issues and asked Ledesma to take his place. In a blog post titled "A Dream is About to Come True," he noted his ambitions to professionally conduct and his part of the program, which he dedicated exclusively to Clausen's music and legacy at The Simpsons.
"Alf asked me to do this for him," wrote Ledesma. "Honored, humbled, and excited are three words that come to mind to describe how I feel about this privilege, and they are woefully lacking in descriptive power. I cannot thank Alf enough for this opportunity and for the trust he has placed in my hands to represent him and his music. It goes without saying that my whole musical life has [led] up to these three nights."
Beyond The Simpsons, Ledesma is credited on more than 130 other films, series, and specials like Mission Hill (1999-2002), The Critic (1994-2001), Robin Hood: Men in Tights (1993), Gypsy (1993), and more.
He is survived by his wife Michelle, their two daughters, and three grandchildren. See below to read remembrances from Ledesma's friends and colleagues.