When Anthony McCann, director of CalArts MFA in Creative Writing, approached School of Critical Studies Associate Dean Mike Bryant with the idea of participating in a desert-focused climate change initiative, it sounded like a no-brainer. A biologist and statistician by training, one of the general studies courses that Bryant teaches at CalArts is Biodiversity and Conservation, which explores the variety of ways in which our environment is threatened by human activity.
"I'm always excited to find ways to give my students some actual hands-on experience," Bryant said.
Joshua Tree National Park, a massive 800,000-acre desert wilderness located less than 200 miles east of the CalArts campus, is home to the famously unique Joshua tree (Yucca brevifolia), as well as a host of other plant species that are heavily threatened by climate change. The park is where Lynn Sweet, a research ecologist from the University of California, Riverside (UCR) who helps run the Desert Climate Resilience Initiative for the nearby Coachella Valley, as well as Jane Rodgers of the National Park Service (NPS) and others are engaging in an extensive, long-term project designed to understand what will happen to Joshua Tree's ecosystem as the earth warms. Since scientists already recognize that current warming trends will eventually render much of the habitat in the park unlivable for a range of unique plant life, their goal now is to prepare for that moment by locating a refugium in order to protect the unique flora that have lived in the park for centuries.
"The spirit of this endeavor is so different from how we usually address climate change," McCann said.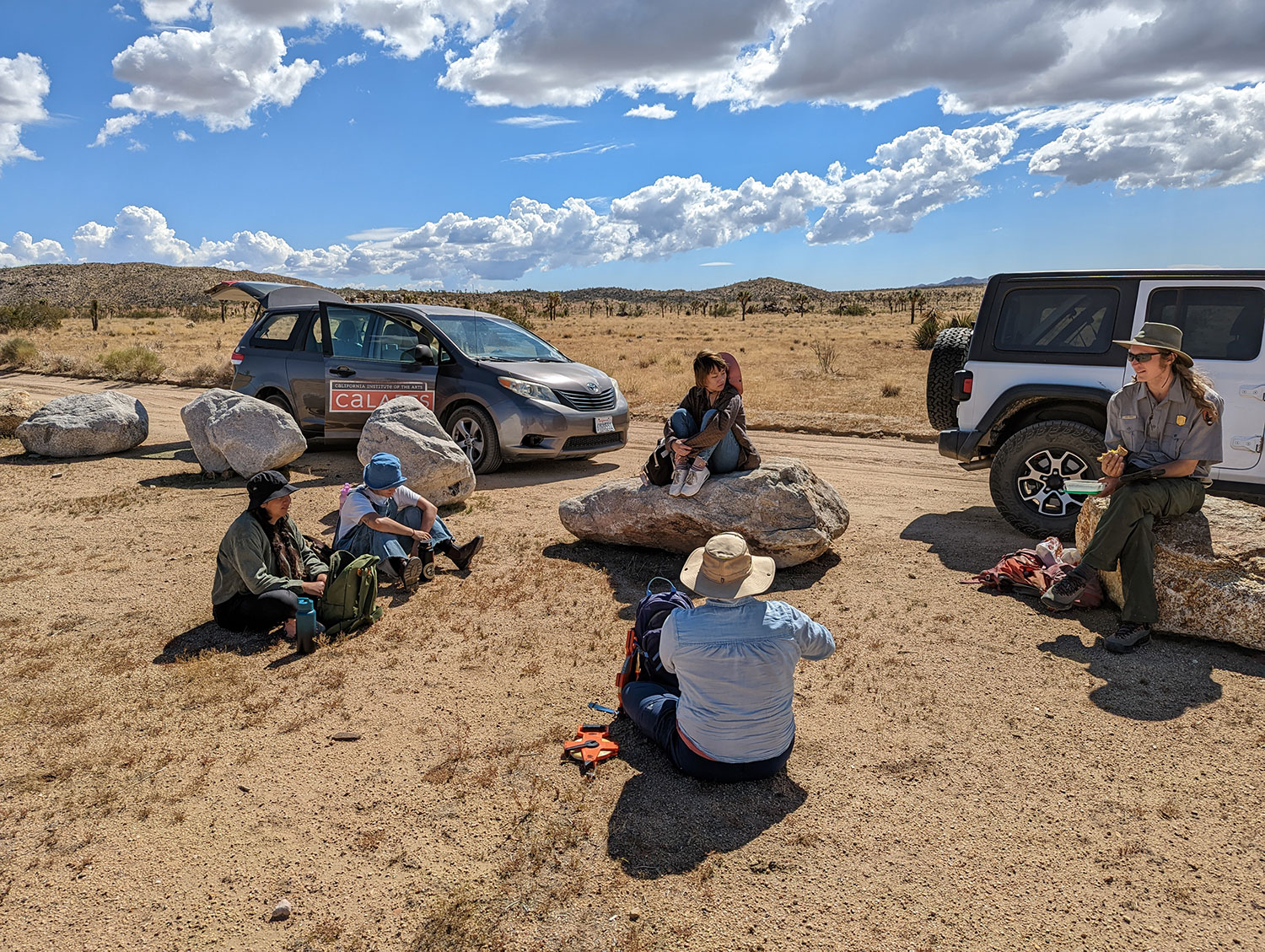 McCann had met Sweet two years earlier and was moved by the work in which she and her team were engaged. He quickly told Bryant about it with the hope that the two of them would be able to recruit some CalArts students to participate and, eventually, develop ongoing participation in the project. Sweet was eager for the assistance. And in fall 2022, six students—two MFA Creative Writing students, an MA in the Aesthetics and Politics program, and three BFA students from Bryant's classes—signed up to participate. The group spent a long, hot weekend at the park in September 2022, observing and recording plant species alongside UCR and NPS climate scientists, as well as taking measurements and gathering other critical data. This information will be used in sophisticated climate models that will enable scientists to accurately predict what is likely to happen in the park as it warms over the coming decades.
"It's this amazing project that covers both a huge area but is also designed to cover a lengthy amount of time," Bryant said. "The data that we were gathering while we were there will inform scientists and policymakers about the decisions that they have to make now in order to ensure the survival of many of these species 50 years down the road."
As a result of data collected by the CalArtians, as well as many others over a number of years, scientists will be able to understand whether specific sections of the park will be more viable for Joshua trees and other critical plant species than other areas of the park decades into the future. The snapshots of data being gathered today will ultimately help inform what decisions are made with regard to resource allocation. For example, if Joshua trees are predicted to be more viable in one area, policymakers and park officials can focus their resources now and in the coming years on mitigation efforts in that area in order to help enable long-term survival of the flora. The effort will ensure that resources are spent wisely where they are needed the most.
"The area that we were working in seemed to have the right conditions to support the Joshua tree and other species," said Jackie Hensy, an MA student in the Aesthetics and Politics program and a participant in the project. "So things like fire breaks and resources can be focused in this area as a means for protecting the plant species there."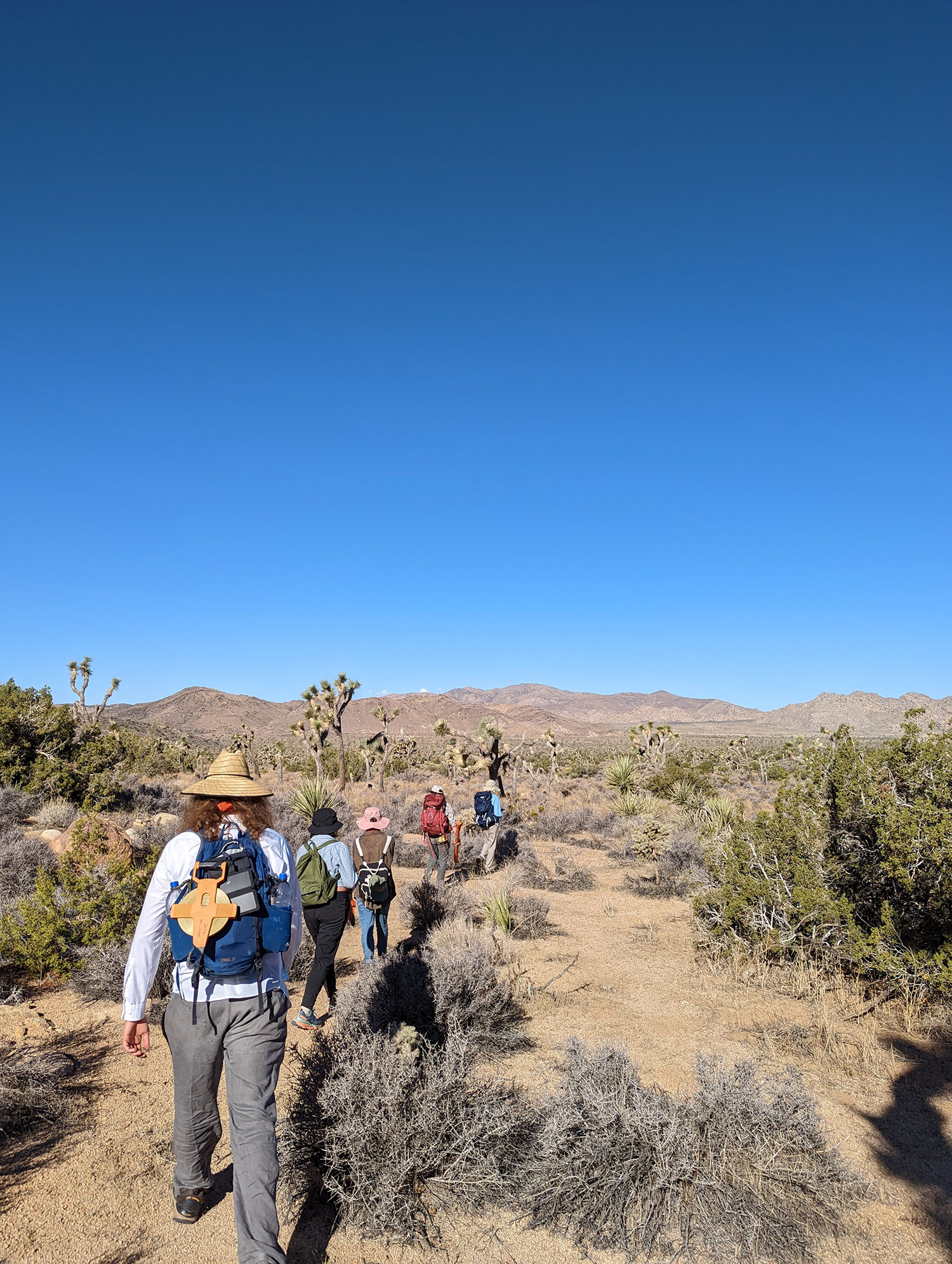 While doing their work, the participants witnessed firsthand the damage that climate change has already wrought in the park. "I documented a remote pinyon pine woodland plot, and we found one young living tree," Hensy said. "We measured the length of about 25 mature, felled trees."
Yet, in spite of this, the clear feeling among the student participants—as well as Bryant and McCann—was pure exhilaration. They seemed to find themselves energized at the thought of being able to flip the script on the usual narrative surrounding climate change. They were hopeful about doing work specifically designed to mitigate and protect valuable plant species in the face of warming temperatures. Some of the students even found inspiration for their art, taking photos, writing poems, and ruminating on their experience. It also altered their outlook on climate change and the role that they can play in adapting to it.
"I left Joshua Tree with a much more hopeful outlook on individual efforts," said Natalee Park, a BFA1 in the School of Art who also participated in the project.
"I've certainly spent a fair amount of time grieving about climate change, but lately I don't," Hensy said. "I find education and action-oriented work related to climate change to be hopeful. And being able to witness the overlap between the sciences and the humanities in this way is very encouraging to me. A livable planet is dependent on reversing past systems of dominance and oppression, and art helps to tell these stories."