Armando Martinez-Celis (Art BFA 13) and Roman Jaster (Art BFA 07) graduated from CalArts' Graphic Design program and have also taught in the program. They consider themselves CalArts superfans and recently took on the momentous task of putting on a reunion for the Graphic Design program. Here's their report on how they did it and lessons learned along the way.
---
When we started our planning in late 2021, we assumed there had never been a reunion on the program level for Graphic Design. Not wanting to get caught up with fact-checking, we ran with the title The Possibly First Ever CalArts Graphic Design Reunion. Half a year later, the event took place on May 7. In our wildest dreams, we hoped for 160 alums, faculty, and current students to come. We ended up with nearly 300 folks who spent a magical day at CalArts.
Lesson 1: Program Specificity Is Important
Sure, CalArts is interdisciplinary, and we make friends across the Institute. But our core relationships tend to develop within our schools and our programs. The Graphic Design program—even within the Art School—is rather insular. The prospect of seeing so many familiar faces (or meeting the faces of familiar names) excited many alums who came.
Lesson 2: Location: CalArts, Time: During the Semester
We always knew that the reunion had to take place on campus, the spiritual home for all CalArtians. Visiting the school—the first time in decades for some—provided the right nostalgic framework. We scheduled the reunion during the semester for two reasons. First, the yearly Graphic Design End of Year Show would be on view, giving our alums insight into the work of the current students. And, second, the current students would still be on campus, giving them the chance to mingle with alums, many of whom they only knew by name. The partly constructed graduation stage in the Graduation Courtyard, where our party took place, was at first a liability (would it be in the way?) but then turned out to be a stroke of good luck as it became home to our amazing DJs (Sundhya Anthony (Art BFA 24) and Haruka Cheung (Art BFA 24), both current design students).
Lesson 3: Make it an All-Day Affair
There were skeptics who questioned our decisions to plan an all-day event from 11 am–10 pm. But we expected folks from out of town (eventually, they came from as far away as Korea, Germany, and Hawaii) and wanted to schedule enough time for meaningful connections. Plus, everyone could decide how much of the day to participate in. Our activities included one-on-one meetings with current students; tours of the Institute, the End of the Year Show, and the Poster Archive; a grand group photo and champagne toast; alum presentations; collaging with the CalArts Collage Association (colloquially known as CACA); and a bazaar featuring books, prints, jewelry, ceramics, and shoes donated by alums that generated a $4,580.53 donation to the Lorraine Wild Graphic Design Scholarship. Also on the docket: lunch, dinner, an open bar, and a DJ set.
Lesson 4: Work with a Small but Mighty Team
Much of the planning was handled by just two people with crucial support from two current students (Natalie Gooden (Art BFA 22) and Noa Chang (Art BFA 22)). Natalie and Noa worked primarily on the graphic identity of the event. We held weekly Zoom meetings on Monday evenings, which quickly became the highlight of our week.
Lesson 5: Events are Expensive
In our youthful naiveté, we underestimated the amount of money it would take to put on a satisfying event. Our earliest budget estimation included a line item for "food for dinner" at $2,500. We were off. Waaay off. We were determined to keep the ticket prices affordable and on a sliding scale, yet the tickets only covered a fifth of our budget. Luckily, we were able to use some of the Graphic Design program's Coursera-generated revenue.
Lesson 6: Open Bar FTW
The open bar was a big deal. We even had custom cocktails (and mocktails) based on faculty names: The Wild One, The Odd Fella, Keedy Sour, Lulu Lemon, Bloody Michael, and Gentle Swan.
Lesson 7: Put the Party at the Center
Early on, we discussed our ideas for what the reunion should and should not be. We wanted to create a space to share memories of our times at CalArts, not a graphic design conference. An opportunity to catch up with people we had not seen in years, not a professional networking event. A day to create goodwill and strengthen our bonds as alums, not a fundraiser. We wanted a party first and foremost.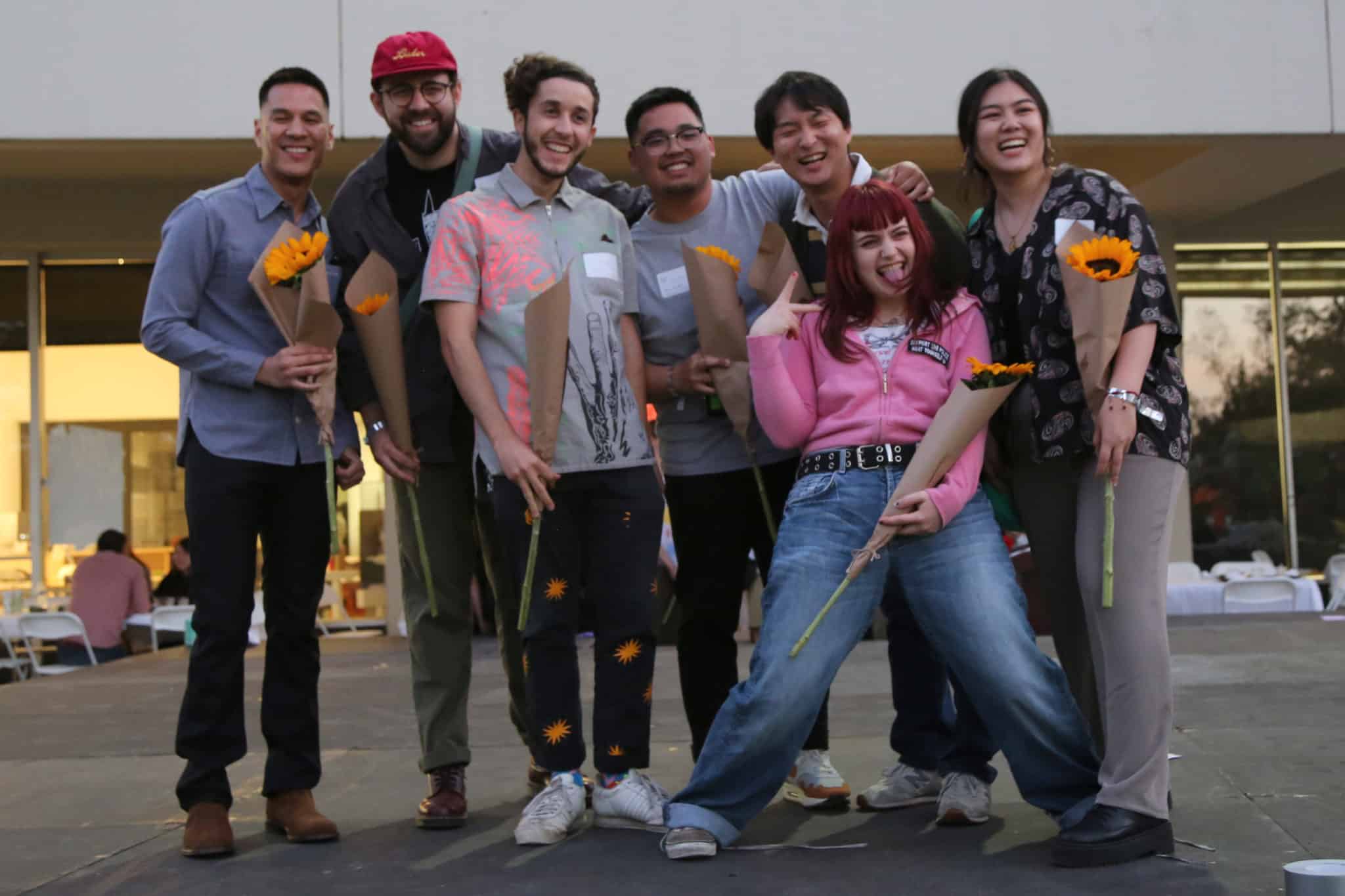 Lesson 8: Leave Room for Surprises
Since the graduating classes of 2020 and 2021 did not have an in-person graduation experience, we wanted to address this with a small gesture. Our "graduation" manifested, as a surprise to all, when each of these alums were called to the stage and presented with a sunflower by the faculty. It was, as we heard from many alums since, one of the most meaningful moments of the day. Summing up the feeling for many, an alum from 2002 was overheard exclaiming, "I fucking love this place."

—

What started as a simple idea of providing a place for alums to come together, quickly grew into an event of great consequence for us. Deep in the thicket of planning the event, as the attendance increased and more planning, requests, phone calls, and meetings were needed, it seemed certain that this would be the first and last time we would do this. Now, we're not so sure. See you again in maybe five years?

Photo Gallery
Click on thumbnails to enlarge image and for captions.
---