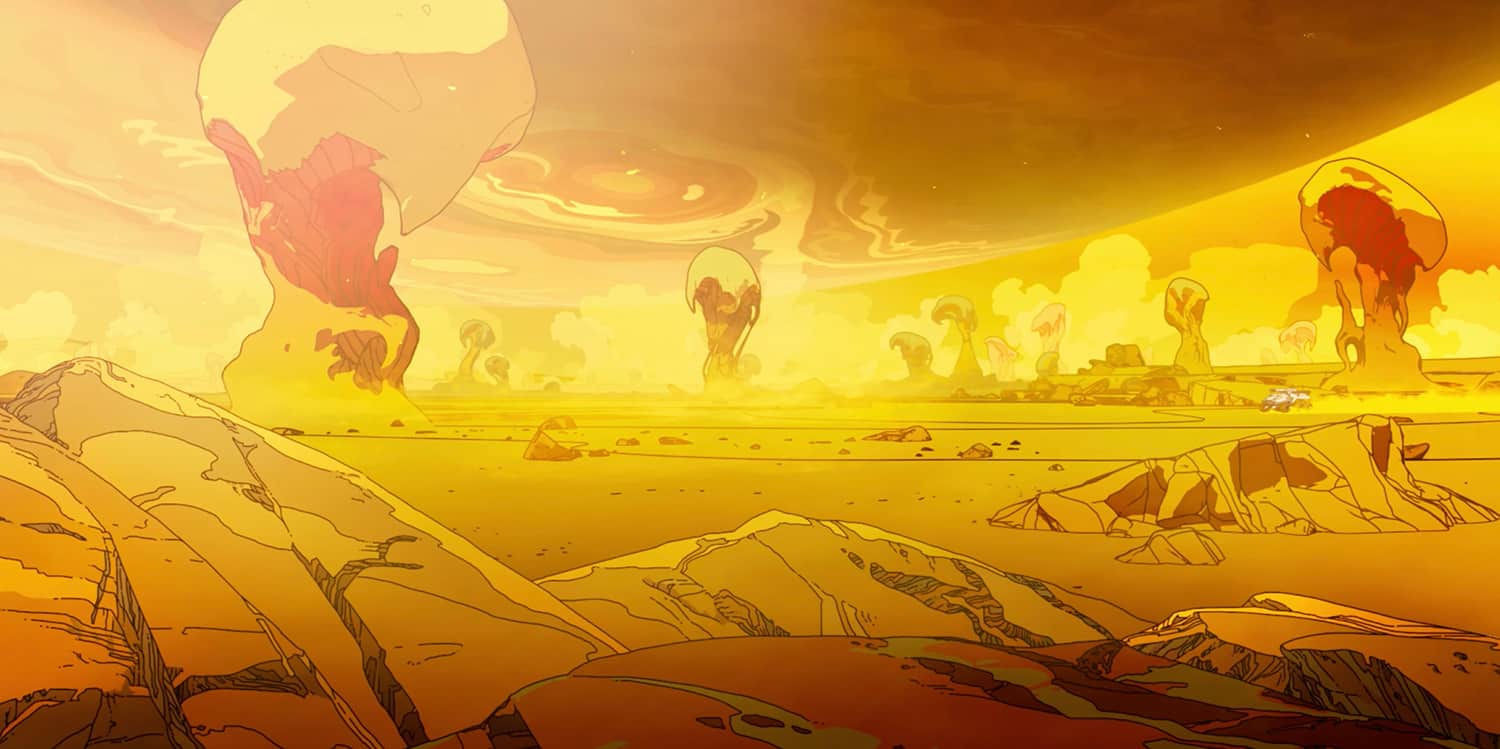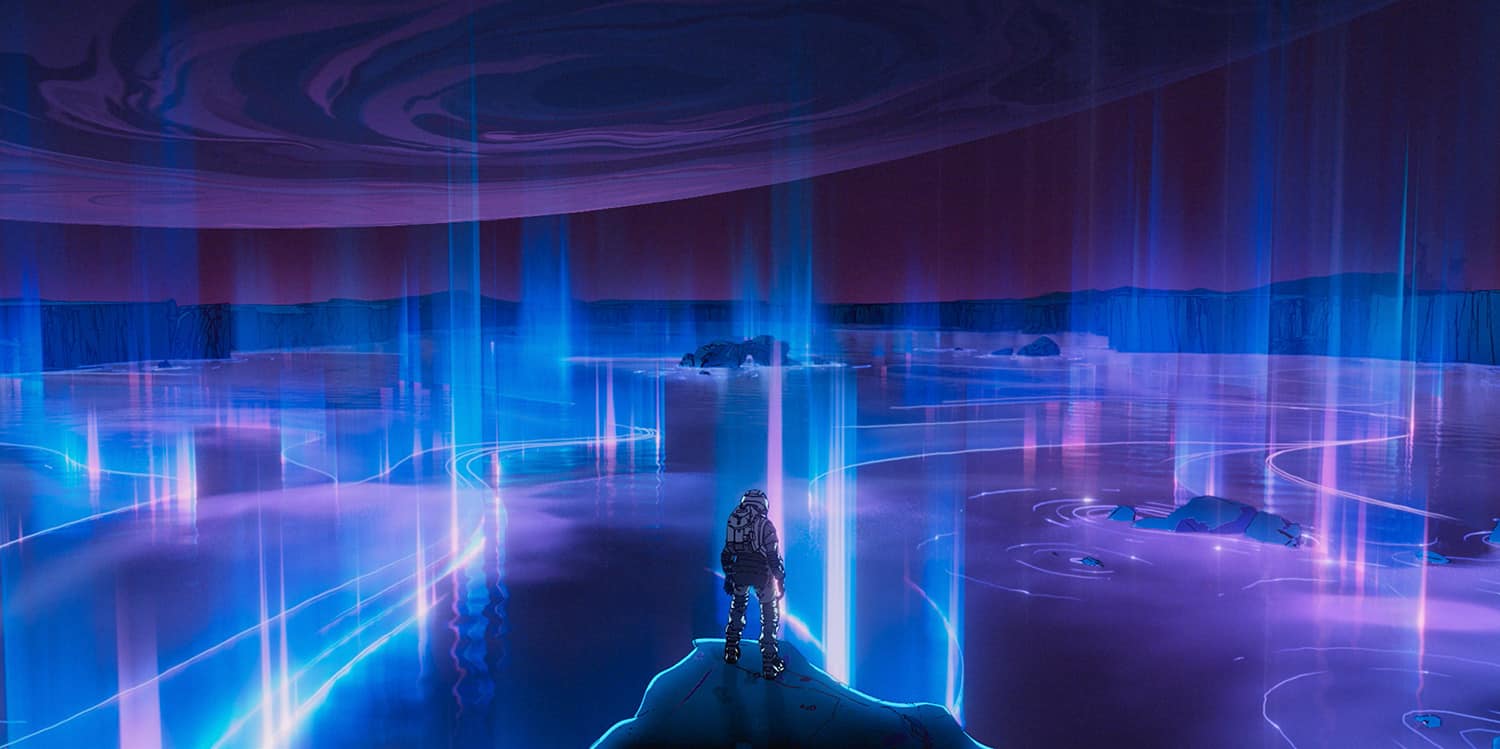 Among the standout episodes in the just-released third season of Netflix's animated series Love Death + Robots (LDR) is the phantasmagoric spectacle "The Very Pulse of the Machine," a retelling of Michael Swanwick's 1998 short story of the same name. The episode, directed by CalArtian Emily Dean (Film/Video 13) and written by Philip Gelatt, was lauded as a "gorgeous" watch that "ends on a particularly poetic note" by Andrew Webster for The Verge.
The episode follows Martha Kivelson, an astronaut stranded on Jupiter's innermost Galilean moon Io. As she attempts to drag herself and her colleague's corpse to their landing craft across miles of unforgiving Jovian terrain, Martha begins to hallucinate that the moon is communicating with her. While Swanwick's original short story portrayed Martha's interiority, the new adaptation externalized her volatile emotional state through Io itself—its undulating landscape takes on female forms, the horizon shifts from sulphuric yellow to bioluminescent blues and purples.
Dean shared how she was tapped to direct the episode in an email interview with The Pool:
Over the summer of 2019 I received an email from the LDR team asking me to come in for a meeting. At the time they were preparing their slate for Volume II, and I was thrilled because I was already a fan of the show. In that first meeting, I was asked what I wanted to make and I said that I'd always wanted to make something that was a love letter to Moebius. I also felt that because the short stories in LDR are predominantly from the sci-fi Heavy Metal magazine, and because of Moebius' influence on that publication, it would be a great fit.

I was given a bunch of short stories to read and I landed on The Very Pulse of the Machine by Michael Swanwick. I prepared a pitch deck and returned to Blur Studio to pitch to Tim Miller (creator and executive producer). I won the job in the room and I remember their response being, "We don't know how the f–k we're going to make this, but that's what this show is all about." That response got me really excited.
The episode was originally slated to be released in 2021 with Volume II, but was pushed due to the pandemic, as well as the time and labor required to bring its unique visual direction to life. Dean and LDR's Blur Studio collaborated with Tokyo-based animation studio Polygon Pictures, led by Shuzo Shiota, and ultimately assembled a team comprising artists from France, Japan, and the US. Dean believes that the artistic influence from each culture was evident in the final cut.
Dean revealed more about the creative process in an "Inside the Animation" segment with Netflix (watch below), in which she explained how she modeled a figure trekking across a sandy terrain, as well as Martha's leap into the thermal ravine at the end of the episode.
"I wanted to explore the idea of loneliness," Dean reflected on the episode. "Both Martha and the moon of Io are lonely in their own ways, and their relationship is a sort of celestial love story."
In addition to captivating worlds and spirited multifaceted characters, Dean's filmography features themes of isolation, belonging, and communion with nature. She attributes her inclination towards such themes to growing up on a small Australian farm with limited television and internet access. As a kid, she was fascinated by adventure stories, citing writers like Tolkien, Clarke, Orwell, Le Guin, Gaiman, and Conan Doyle as influences. She earned a degree in history and English literature from the University of Sydney, and subsequently enrolled in the School of Film/Video at CalArts, where she studied in both the Experimental and Character Animation programs.
Since her time at the Institute, Dean has garnered various accolades—she was named one of Piaget's Extraordinary Women 2021 in partnership with Financial Times, and included in Variety's "10 Animators to Watch" in 2019. She also founded Grade 8 Productions, a production company that develops original works for television, film, and streaming services. Established in 2017, Grade 8 develops intellectual property across media, plumbing the depths of fantasy and science fiction to explore what Dean describes as "interesting and transgressive concepts." A few projects are in the works, including a graphic novel about a young refugee girl learning to raise her younger sister amid an impending "supernatural world war."
"I don't know what I'll be working on in the future," said Dean, "but I'm always guided toward meaningful and interesting creative work made with good professional people."
Such was what she experienced during her time at the Institute, which she called "invaluable" and allowed her to forge connections within a thriving community of artists. Having studied in both the Experimental and Character Animation programs, Dean encourages current students in the School of Film/Video to collaborate across departments in order to hone their voices as filmmakers and broaden their technical skill sets.
"For students who are studying at CalArts now, I'd encourage you to make the film you want to make in your heart, not just what you think will get you a job," advised Dean. "The industry will always be there but your time at CalArts goes by so quickly. Use that time to spread your wings and fly!"