In late June, a joint creative team and ensemble from CalArts and the Conservatoire National Supérieur d'Art Dramatique in Paris took to the Conservatoire's stage to present Augustine Machine ou Encore Une Nuit d'Insomnie.
Led by Travis Preston, dean of the School of Theater and the CalArts Center for New Performance's executive artistic director, the ensemble, which included CalArts students, alums, and faculty, examined the breadth of possibilities of the human body in the newly devised work. Augustine Machine used the history and origins of hysteria as an entrypoint, and encompassed dance, video projection, and collage. In a metaphorical testament to the collective experience, the company traversed Hysteria, Ecstasy, and Revolt on stage.
Developed in the US and France, Augustine Machine features creative contributions from Amanda Shank (Theater MFA 13), School of Theater associate dean and CNP associate artistic director, and collaborators including writer Marie Darrieussecq, film theorist Tom Gunning, and others.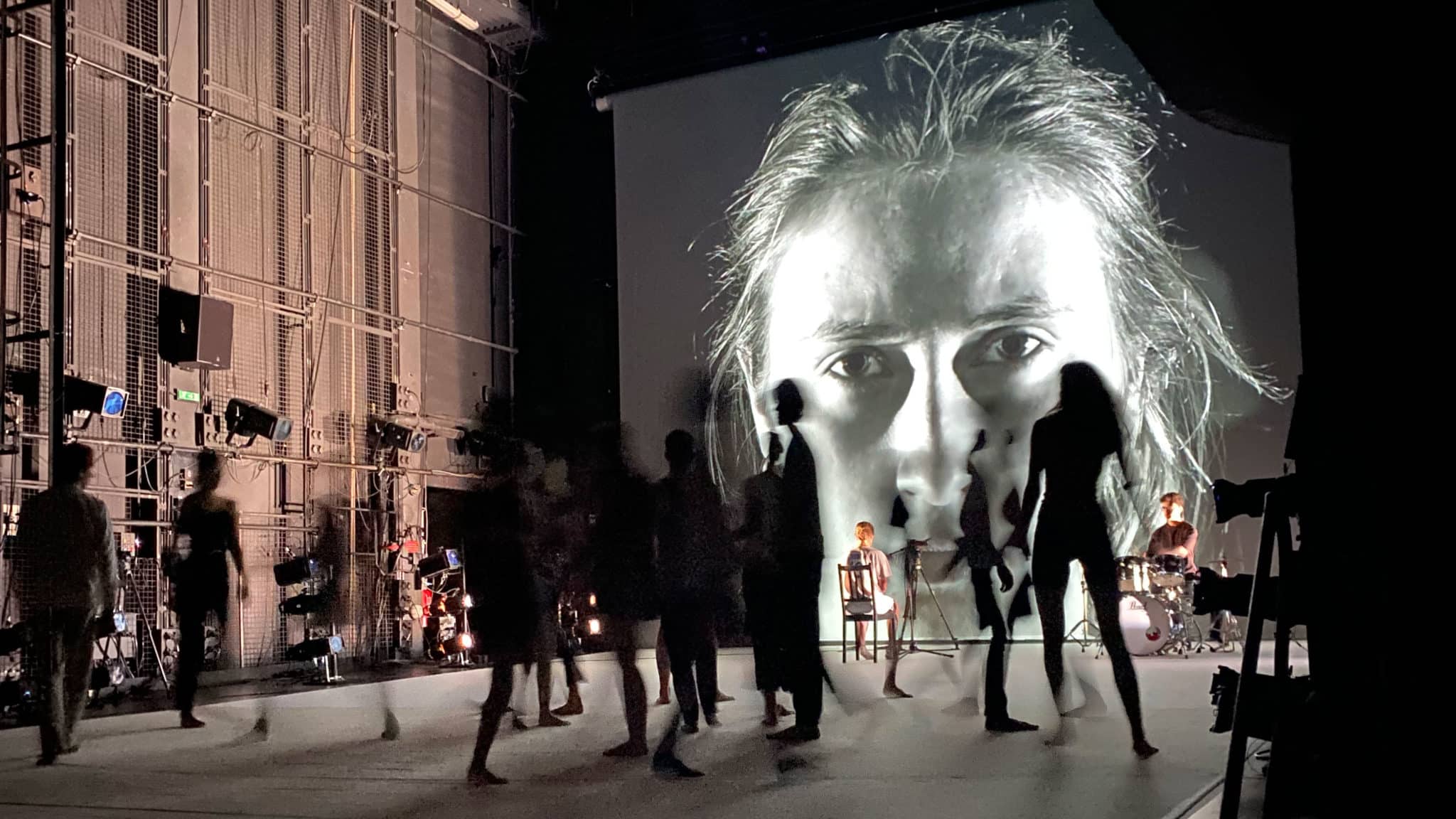 "The creation of this work with our French colleagues far exceeded expectations and pushed performance boundaries for all of us," said Travis Preston. "I am immensely grateful to Grégory Gabriel [director of Studies, Conservatoire National Supérieur d'Art Dramatique] for proposing and facilitating this partnership, and the entire team who has collaborated brilliantly across continents, practices, and perspectives."
Added Shank, "What I witnessed in the collaboration between our CalArts students and the students at the Conservatoire is that they had very different strengths in how they work and very different rhythms in how they engage with the process, and how they engage with their own practice as performers, so they had different fluencies really beyond even the languages.
"And their ability to witness that in each other and learn from that in each other and, I think, meld together in those different strengths meeting each other—it not only informed the piece, but it really informed, I think, their own understanding of themselves as performers which was really beautiful to witness."
The idea for the project emerged following a proposed partnership between CNP and the Conservatoire. An international creative team was assembled from France and the US, with workshops held on the CalArts campus in Valencia and Conservatoire venues in Paris. True to its mission, CNP engaged professional artists together with CalArts students, alumni, faculty, and staff to create the new cross-disciplinary work and provide a singular professional experience for every artist involved.
"What has been a joy for me with facilitating international exchange is that, because I work in the world of movement, language isn't always a barrier," said choreographer Jessica Emmanuel (Dance BFA 06). So everybody's body can speak in a way that is authentic and true that language doesn't always get in the way of.
"We brought people from the United States to Paris—our Paris colleagues first came to Los Angeles—and we went to France to mount the piece. And it is unparalleled in its impact on their consciousness, on their art, and certainly on their future possibilities," noted Preston. "This is paradigmatic of what CNP likes to do as we merge student professionals, we merge them with alumni, and we merge them with faculty, and outside artists who are contributing from the Conservatoire."