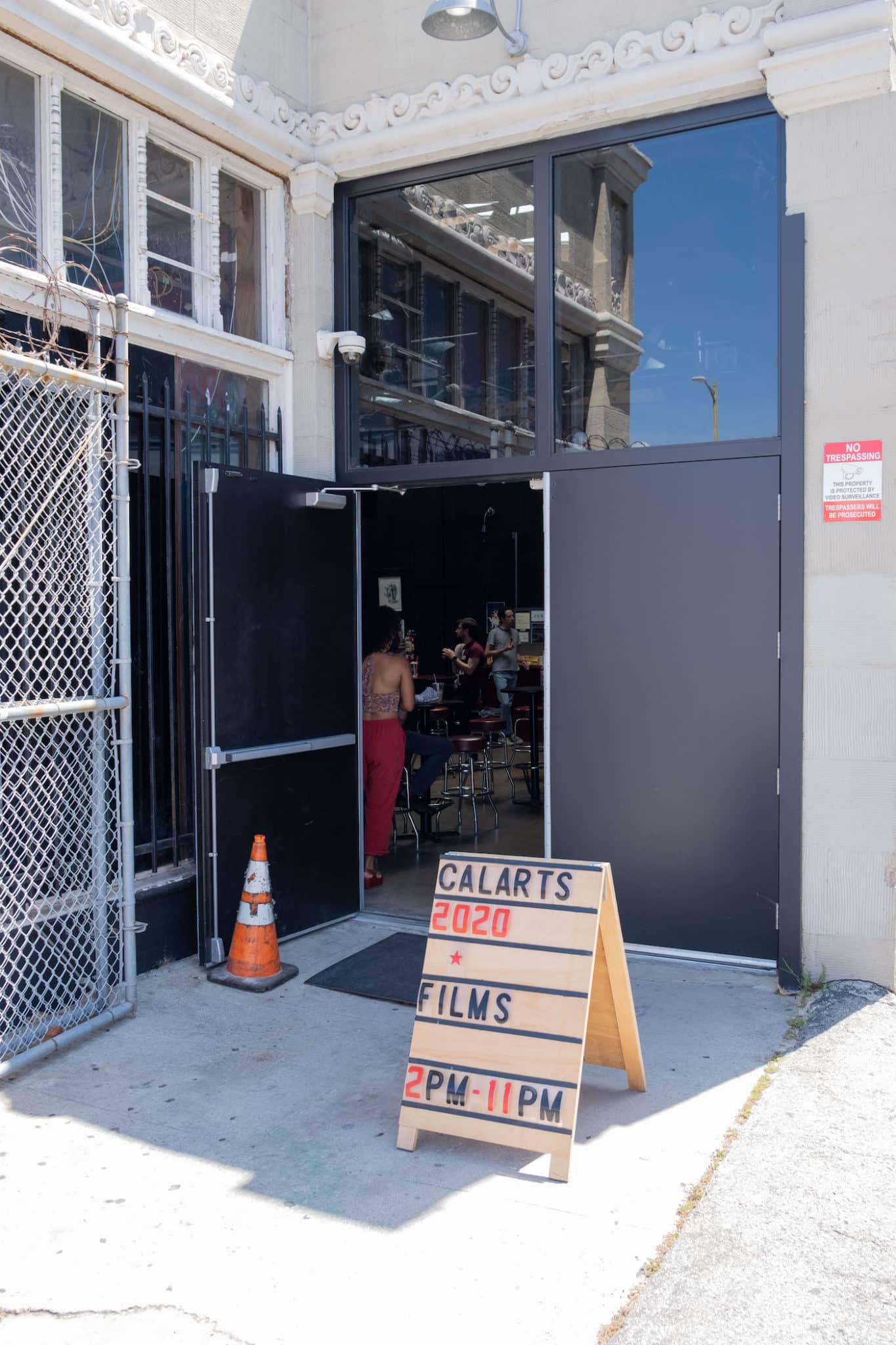 Yellow boxes of Porto's Bakery items, coffee containers, and other treats dotted the snack table as guests arrived at 2220 Arts + Archives cultural center in Los Angeles' Historic Filipinotown neighborhood early in the afternoon on May 7. The attendees were there to watch films from several graduates of the School of Film/Video class of 2020.
The 14 works were created by then-students of the Experimental Animation, Film and Video, and Film Directing programs who had their year-end showcases canceled because of the COVID-19 pandemic.
The volunteer-run cultural center was the perfect venue to hold the DIY, all-day affair organized and curated by faculty members Rebecca Baron, director Program in Film and Video; Alexander Stewart, co-director, Experimental Animation Program; and Juan Pablo González, co-director, Film Directing Program. (They also ran the projectors and equipment, checked vaccine cards, and set up the venue the day of the screening, which ran from 2 pm onward.)
Baron explained why she worked with other program leads to create this moment for the class of 2020. "When people were graduating that spring and everything was completely remote, it was just heartbreaking to say goodbye in this very distant way. And there was a lot of really beautiful work being made, and I just felt like the students didn't have that satisfaction of sharing it. This work was meant to be shown with an audience. And so I didn't want to forget that as we moved back into in-person events. I just really felt like their work would get lost."
In talking to González and Stewart, they discovered they all shared the same feelings for the "lost year" for their students. They asked faculty to put out the call to the students who graduated that year and organized the joint programs' screening. The day included narrative, short narratives, and experimental animation.
Tuixen Benet (Film/Video MFA 20), a filmmaker-choreographer and faculty in The Sharon Disney Lund School of Dance at CalArts, opened the program with her film "Clausura." She reflected on the films and gathering with the community two years later. "[I have] mixed feelings. It's beautiful, but it's also painful to not have seen it with everyone."
"But I love the space," she added. "I used to come here when it was the Bootleg. Yeah. I'm really happy."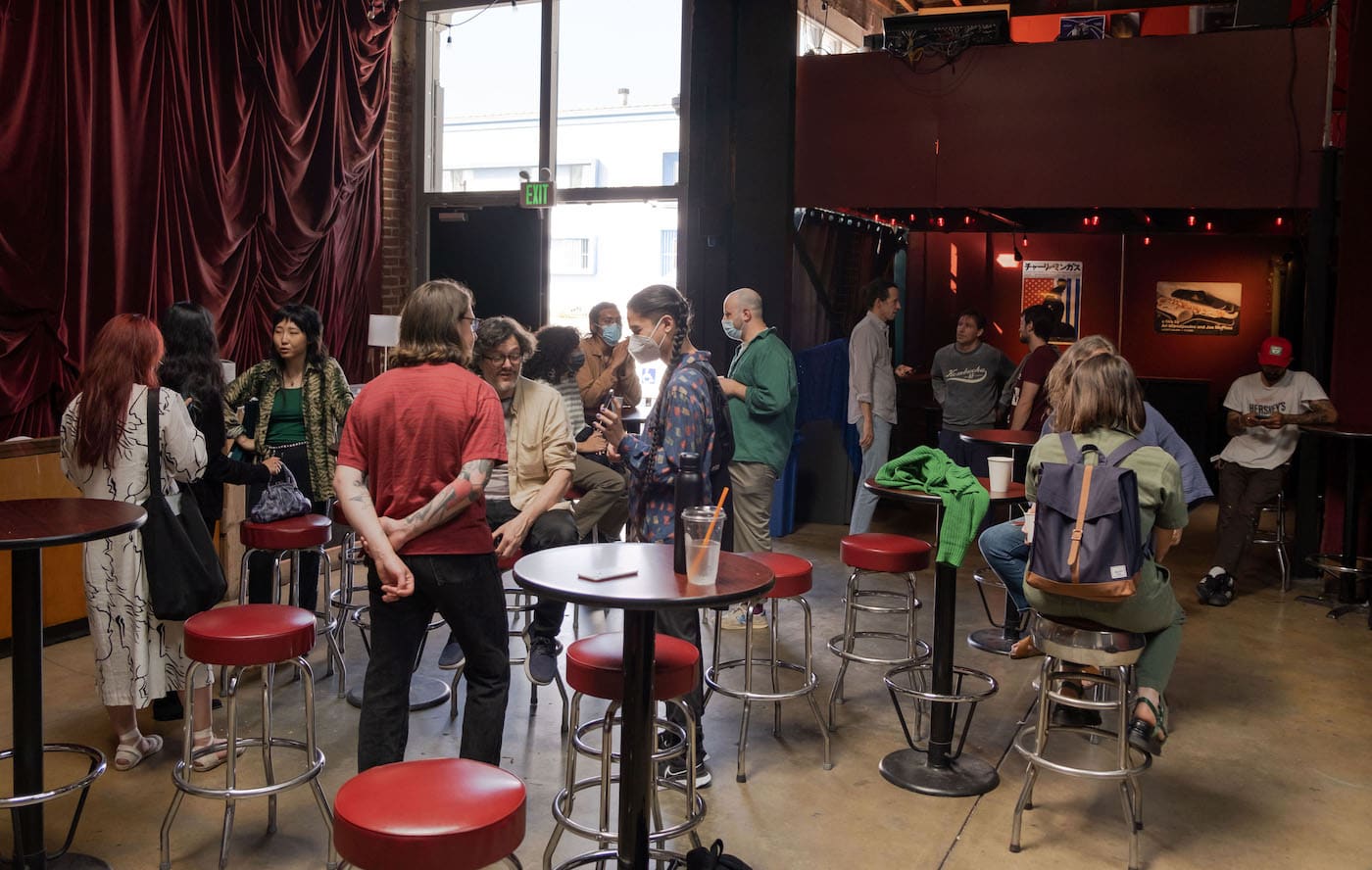 Screening Program
"Clausura" by Tuixen Benet
"Untitled" by Xiwen Zhang
"Long Play" by Jack Paradise
"Genesis" by Tristan Kilmer
"The Absence of Memory" by Brian Yulo Ng
"Automated" by Ray Chang
"Golem Aleph" by Adam Wand
"A Soft Lunacy" by Shanthal Caba Mojica
"The Prize at the Heart of the Game – Cyallator." by Noah Grossman in the Lounge
"(untitled)" by Jordan Wong
"Xmas Eve Eve" by Dazhi Huang
"Esfahan" by Azadeh Ahmadibaseri
Lake Forest Park by Kersti Jan Werdal
"Sunblock" by Noah Grossman
"A Man Disappears" by Marley Townsend
"Bite the Hand that Feeds" by Carissa Berger
"MiND MY GOOFiNess" by Alex Michel