Isabelle Lutterodt (Photography MFA 01) was lounging on her couch on her day off when she received an important phone call in October. She discovered that, out of a sea of applicants, California Gov. Gavin Newsom appointed her the new deputy director and chief curator of the California African American Museum (CAAM) in Los Angeles.
"It was really surreal," says Lutterodt, 46. "I called my parents and we all screamed on the phone … It was very heartwarming but very unceremonious—I was on my couch—but the best place to hear information like that is while sitting down."
For Lutterodt—a curator, photographer, and printmaker—CAAM is a homecoming. When she first moved to LA to attend CalArts more than two decades ago, CAAM was one of the first places with which she became involved, and even had a chance to teach classes there.
"Being able to come back to the museum and be in this senior leadership position has a nice circular feel to it, knowing that it played an important role in shaping my path and career in many ways," she says. "Different opportunities that happened at the institution really helped push me toward wanting to work in museums and with communities."
Community engagement has been the cornerstone of Lutterodt's work. Her last gig was as director of Barnsdall Art Park, where she spent six years overseeing its facilities, including the Los Angeles Municipal Art Gallery and Junior Art Center. Before that, she was the director of visual arts at Angels Gate Cultural Center in San Pedro and an exhibition manager at UCSD's University Art Gallery.
However, it's the amalgamation of Lutterodt's life experiences as an immigrant and artist that has led her to this path of community-centered art, with a focus on African American history.
Lutterodt, who was born in England, spent her formative years in Ghana as the daughter of a white English mother and Black Ghanian father. Her family immigrated to the United States in the 1980s after Ghanians suffered through a severe famine. "I remember seeing kids who were really hungry," she recalls, "and that stays with you."
It wasn't easy living in Columbia, Maryland, a city outside of the Washington, DC area, either. Her mixed-race family stood out in a very segregated community.
"The African American experience isn't necessarily my own, because I'm an immigrant, but it's an experience that I understand and identify with," she says. "I understand that struggle because that struggle is something I experienced in America as well."
Lutterodt was inspired by artist—and fellow CalArts alum—Carrie Mae Weems' (Art BFA 81) work in photography, a medium where she found her own voice. Her art practice first started as a way to process the angst she was feeling growing up stateside.
"I really loved the way that Carrie Mae Weems told stories, and so for me, it was, 'How do I tell my story? And how do I tell the story that's important to me?'" Lutterodt pondered.
After earning her B.A. in art with a concentration in African American studies at Guilford College in Greensboro, North Carolina, Lutterodt attended Howard University in DC to study photography and printmaking. It was there that she discovered a different way of looking at African American art. Her professors—Jeff Donaldson, Floyd Coleman, and Kay Brown—were artists who came out of the Black Arts Movement of the 1960s and 1970s, and they were "very much about making work that uplifted Black people," Lutterodt says.
"That sort of countered this other narrative of—particularly in the '80s and growing up outside of DC—the crack epidemic and all that," she remembers. "It acted as a real salve to this other experience that I had. All of that informs how I tell stories and how I want stories to be heard."
At Howard University, she expressed Black femininity, juxtaposed against white femininity, through printmaking. She also interned with Deborah Willis, one of the most important writers on Black photography, at the Smithsonian's Center for African American History and Culture. Lutterodt was exposed to Black photographers who had come out of the late 1800s and 1900s and their incredible work she had never seen before.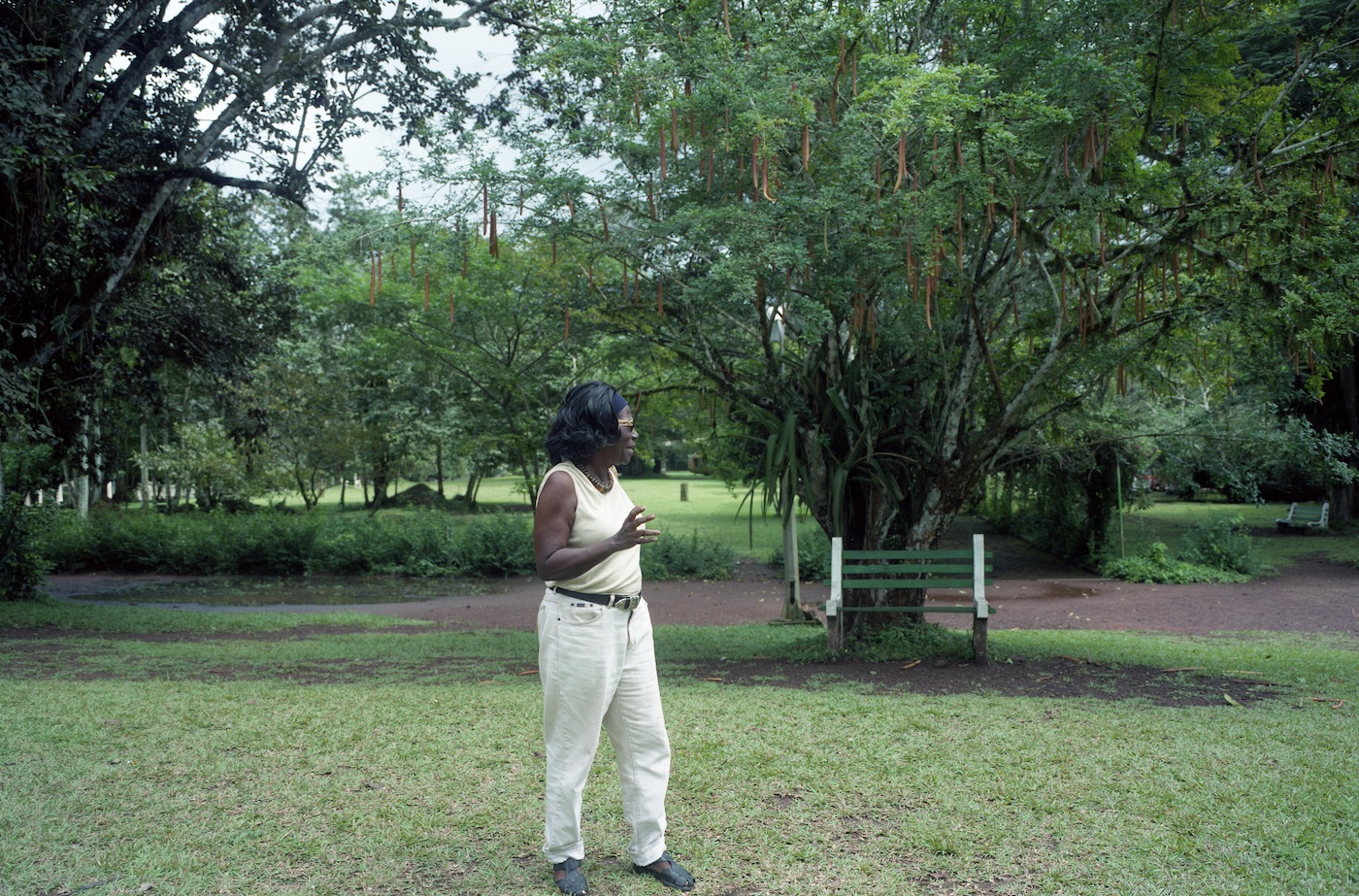 When Lutterodt started at CalArts in 1999, she found new joy in shooting and printing in color but, at the same time, felt isolated and intimidated by her new environment. She says she realized she wasn't "the art star," but found CalArts' Community Arts Partnership (CAP) program grounding.
"CAP was the reason I went to CalArts," she recalls. "I was looking at all these other grad schools, and the only one that had a program geared toward teaching and working in the community was CAP at CalArts."
Glenna Avila, who was the director of CAP for decades, remembers Lutterodt being such an outstanding student in her program that she had her teach her own class—something that was unusual since classes were normally run by faculty members, not students. Lutterodt instructed a silkscreening workshop for the youth at Watts Towers Arts Center, one of CAP's oldest partners.
"It was so successful and the students created the most incredible prints, and we were able to exhibit them there," Avila says. "Everything that [Lutterodt] touched in the CAP program was of the highest quality. Her attention to detail to the students and making sure that each and every student felt welcomed and valued and appreciated, it's exactly what I envisioned for the CAP program."
Lutterodt teamed up with fellow CalArts classmate Karin Pleasant (Writing MFA 01) to curate an exhibit called Ghetto Fabulous, which was on display at Watts Towers in 2002 and Armory Center for the Arts in Pasadena in 2003. The exhibit, in which they had a group of artists create original artwork, explored the Ghetto Fabulous phrase and how it came out of the 1990s. The works both celebrated and critiqued the concept.
"It was a real game changer," Lutterodt says. "That was a way for us to have a show that allowed us to explore different ideas that felt important to the community and have it located in the community."
CAAM's then-curator Mar Hollingsworth saw the exhibition and invited Lutterodt and Pleasant to curate another show, this time for CAAM. Their 2004 exhibit, Through the Gates, looked at the 50th anniversary of Brown v. Board of Education—the landmark Supreme Court decision that ruled that segregation in public schools was unconstitutional. It was this show that pushed Lutterodt to pursue an MA in art museum and gallery studies at the University of Leicester in England, sending her on the trajectory to where she is today.
As someone who has been curating shows for the last two decades, Lutterodt has seen how artistic talent is a combination of nurture and nature. "There are people who have this really unusual way of seeing the world—and maybe they're born that way—and their childhood experiences are a big part of that," she says, adding that there are geniuses who also worked really hard to get where they are today. "What's important is the hustle and being true to yourself as you're doing that hustle."
She's looking forward to going through CAAM's archives (she starts in December) and seeing what she can bring to the table and the community.
"For me, it's so important to be able to understand not just the struggle but also the joy, love, and happiness that comes with the African American experience, so that it can be celebrated along with everything else that comes with the history: the ingenuity, creativity, all of that."