"I'm always trying to recreate something not just from my own memory, but from my family members' memories," shared Sichong Xie (Art-IM MFA 17). "I think the scaffold, for me, is also a metaphor for working in progress."
The Los Angeles-based interdisciplinary artist has spent the past few years investigating her family's collective memories through a series of installations. Just as they serve as temporary structures for construction, scaffolds provided an apt artistic conduit for Xie to run her hands through the knotted threads of her family's ever-evolving recollections and baste them into new shapes.
This exploration began with Do Donkeys Know Politics, Scaffold Series I (2020), which Xie began developing in 2019. The work exhibited at the USC Pacific Asia Museum in Pasadena, California, a week before the pandemic shutdown in March 2020. The show remained quarantined in the museum until June 2021, when it reopened for two weeks.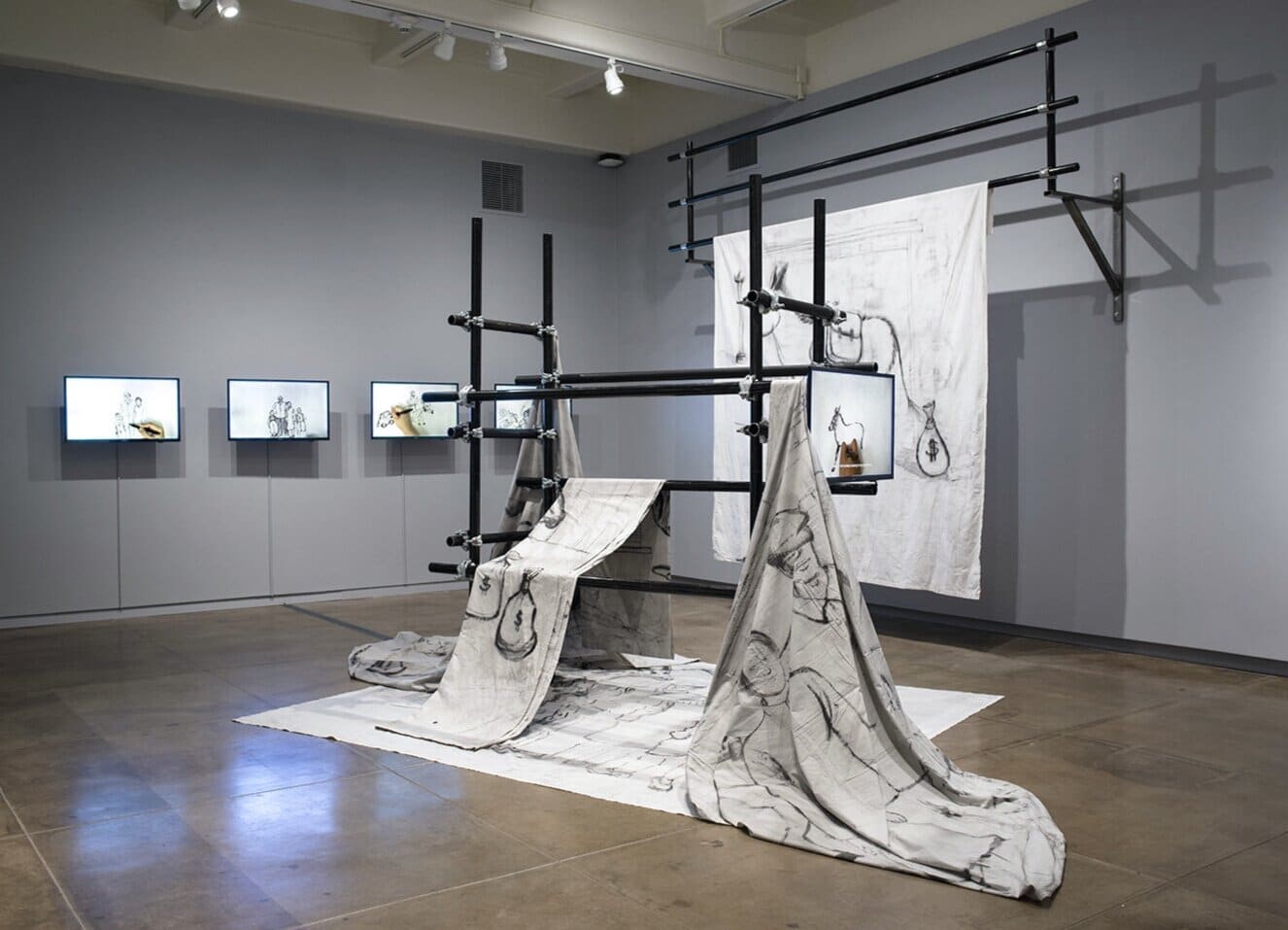 The multichannel installation features Xie's recreations of her grandfather's political cartoons of donkeys from the 1950s. Her grandfather Conglun Zhang, who was an architect, was exiled to a labor camp upon his cartoons being deemed critical of the government, further linking the work to Xie's thematic exploration of invisible labor.
"Do Donkeys Know Politics is a five-channel installation in which each iteration is my attempt to recreate these cartoons, based on my grandmother's critique," said Xie. "My family still lives in mainland China. So each time I drew these cartoons, I would Skype with my grandmother, and she would tell me what was not right in the composition and would correct me based on her memory. But she is also 85 years old, and sometimes she changed her description during the five iterations."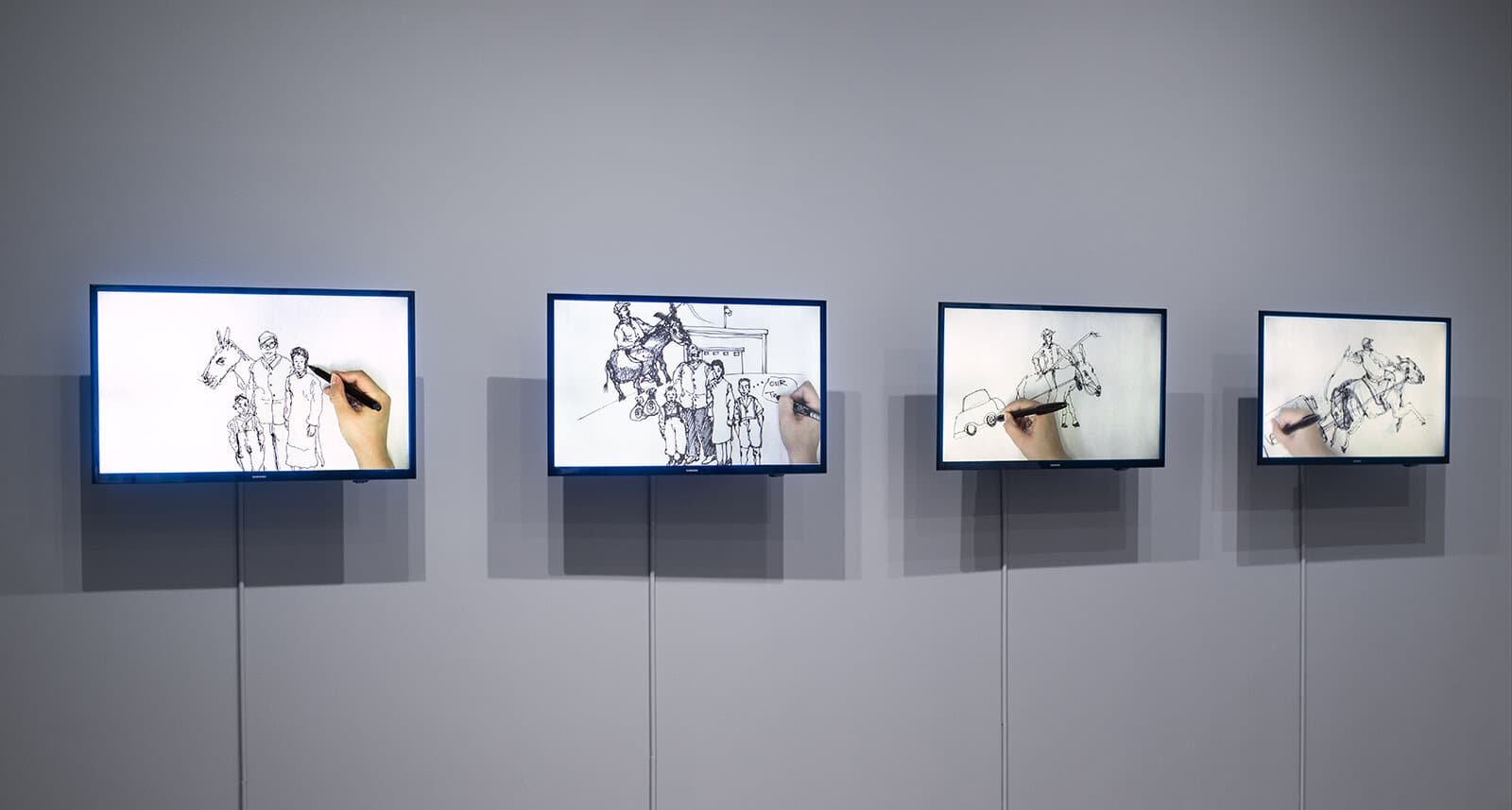 Xie's exploration of familial collective memory continues in her latest exhibition Memory Structure, Scaffold Series, a site-specific work commissioned by the Wende Museum in Culver City, California, for its garden house installation running until March 20, 2022. Much like Do Donkeys Know Politics, the work draws from her family vault—this time, her grandfather's architectural sketches that were never realized.
In Memory Structure, which was developed during Xie's residency with the McColl Center in Charlotte, North Carolina, the sturdy industrial aesthetic and schedule 40 steel of Do Donkeys Know Politics are swapped for lighter and more organic materials, such as mesh and bamboo. The installation at the Wende features two large 12-foot-long bamboo poles standing outside the garden's guardhouse. On the other side of the installation is an 8-by-12-foot-long piece of embroidered construction mesh also inspired by one of her grandfather's drawings, selected specifically for its similarity to a Southern Californian landscape. The transparency of the mesh enables visitors to see the palm tree-dotted scenery in the distance—visual layers Xie had built up with the intention that viewers would recognize the invisible labor involved.
As in her previous scaffolding installation, invisible and intellectual labor add a critical dimension to Memory Structure. Xie was inspired to use construction mesh while walking around Los Angeles, particularly during the pandemic, where she noticed an abundance of construction. Xie especially noted the shadows of the workers behind the mesh, which, as she described, set boundaries between public and private spaces.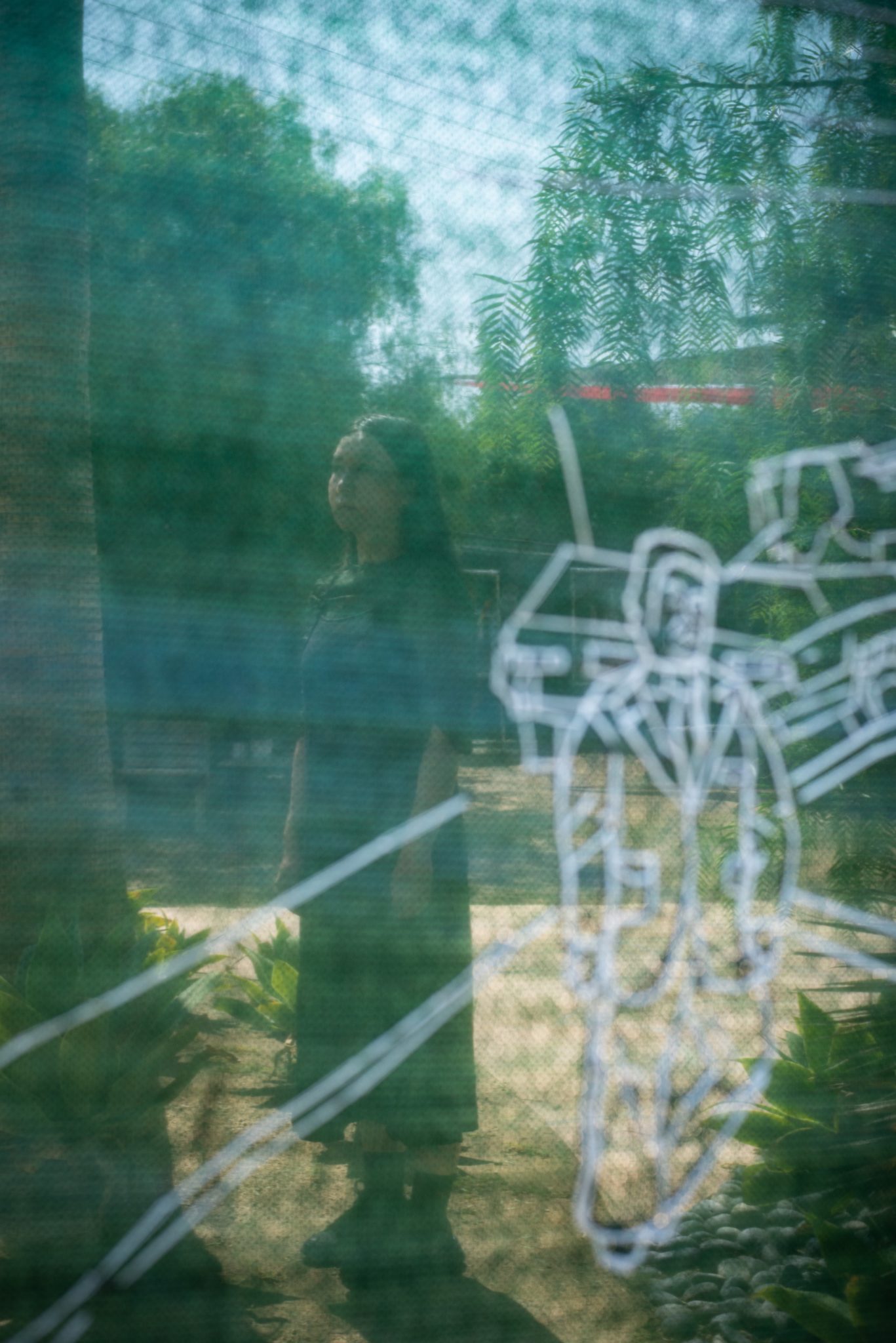 "You don't really see them working, and one year later, the building or house is already built," said Xie of the workers. By enlarging her grandfather's original drawings, she further draws attention to labor long gone unnoticed.
Inside the guardhouse are four light-sensitive laser engraved drawings based on her grandfather's drawings, designed to gradually disappear due to exposure to heat and the sun. Xie deliberately picked an ephemeral medium to relate to her family's memory.
"In a way, it's parallel to building a new home, but at the same time it's a temporary home," Xie added about themes of impermanence. "It speaks to my personal experience of being an immigrant artist in the States. Since I graduated, I've been going to different residencies and fellowships, so in a way those sorts of experiences feel like scaffolding. I don't have a permanent home in any country because I've been in the States for the past 10 years."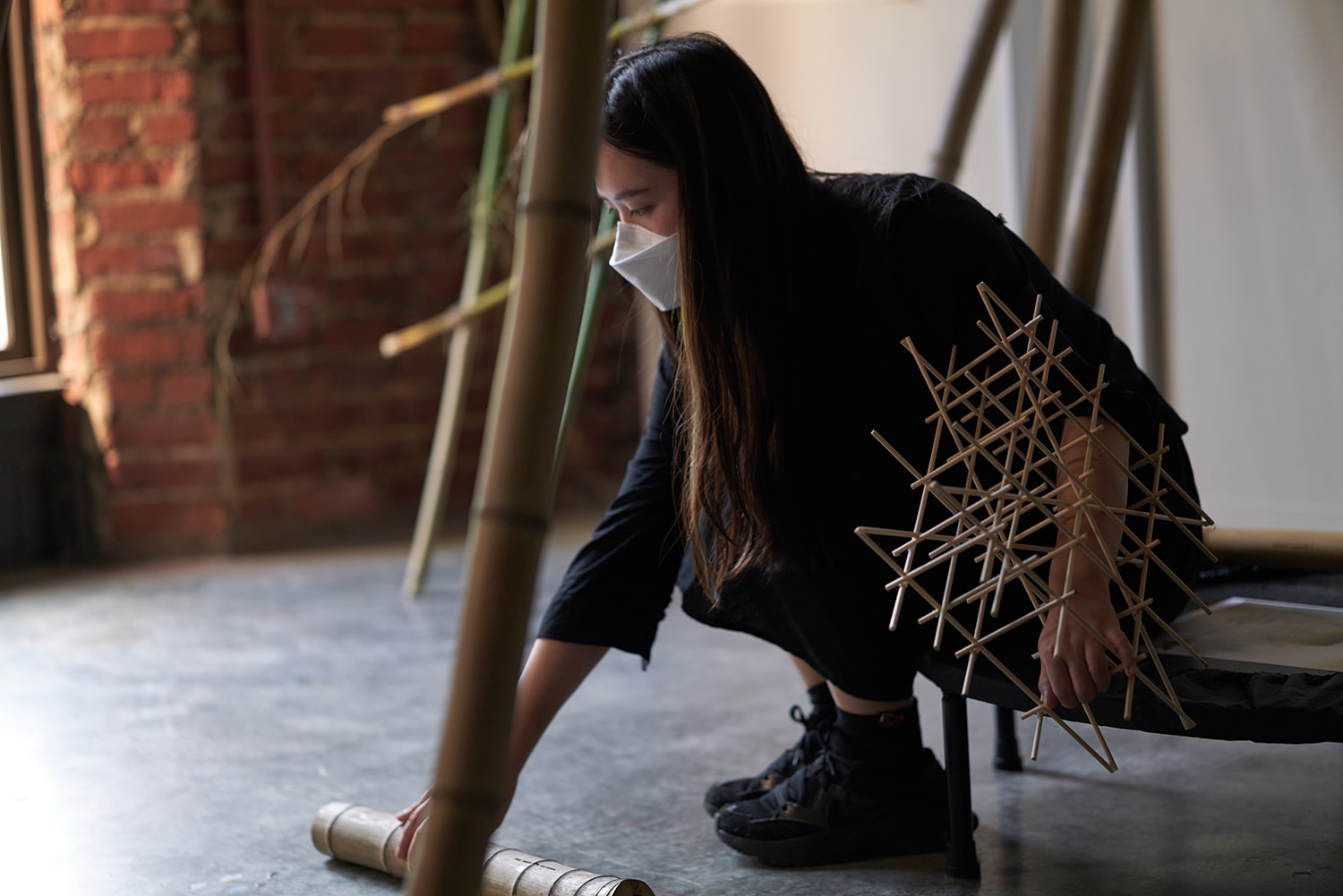 In September, Xie was awarded a 2021 MacDowell Interdisciplinary Artist Fellowship, which is administered through the MacDowell Colony. The month-long residency will take place in May 2022 at Peterborough, New Hampshire, where she tentatively plans to begin a third installment of her scaffolding series.
"My proposed project is based around a soundscape that depicts all the elements I've been recording during the pandemic," said Xie. "I recorded different sites of construction around LA, and I've been writing a lot about this type of personal memory, with collective memory. I think it will be a soundscape related to scaffolding. It will be a direct development of this project but in a different format."
Operating within movement, sculptural forms, and the manner in which each inhabit time and space, Xie's practice examines the impact of collective histories and, by extension, experiences. It is this culmination of one's life experiences, she believes, that most appropriately qualifies genius—more nurture than nature.
"I definitely don't think people are born with this genius ability," shared Xie. "I think it's an integration of experience. A person who has a lot of experience is going to show it through their work, and I think the politics of experience is really important.
"I'm not sure if it's John Baldessari's quote or another CalArts alum. But I remember during an interview they asked him how he got ideas for his work, and he answered that he was just really attracted to the speed bumps near his neighborhood. He felt that those speed bumps gave him inspiration. That's why I feel that experience is important for artists. The situation, the community, and the people you're surrounded by—they are so important for the work."