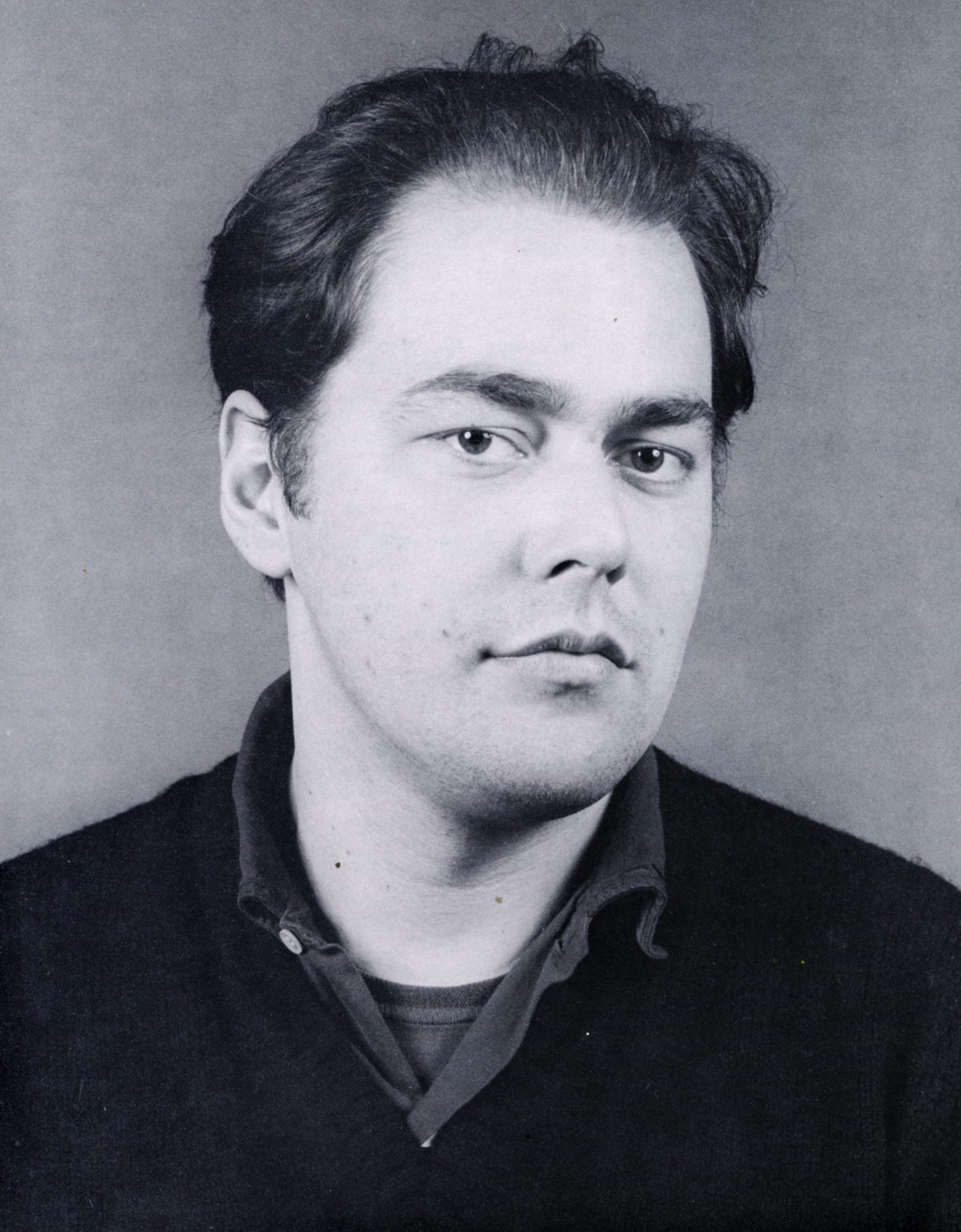 It was announced in April, that after three transformative decades as dean of CalArts' School of Art, Thomas Lawson will step down as dean at the end of the fall 2021 semester. Luckily for current and incoming Art students, Lawson will continue on in his faculty role, helping to guide their emerging and developing practices.
Originally hailing from Glasgow, Scotland, Lawson's first experience with CalArts was as a guest in John Baldessari's class in 1981. When he returned as a visiting artist in spring 1987, he found himself besotted by the school. "Here was this place where people were having really engaged, high-level conversations about where art was going," he said in a recent interview. Fast-forward a few years, and Lawson began his tenure in the School of Art in 1991.
As a practicing artist himself, Lawson dedicated the early part of his tenure to rebuilding the physical art spaces and production facilities for CalArts' student artists. In the early '90s, studios were reconfigured and the MacLab was established to support digital, computerized production. Then, with significant support from Edythe and Eli Broad, a new suite of graduate studios was built. However, additional rebuilding plans were set back by the damage caused by the 1994 Northridge earthquake, which forced Lawson and the CalArts administration to set up and temporarily transfer Art School operations and classes to a secret Lockheed Martin facility.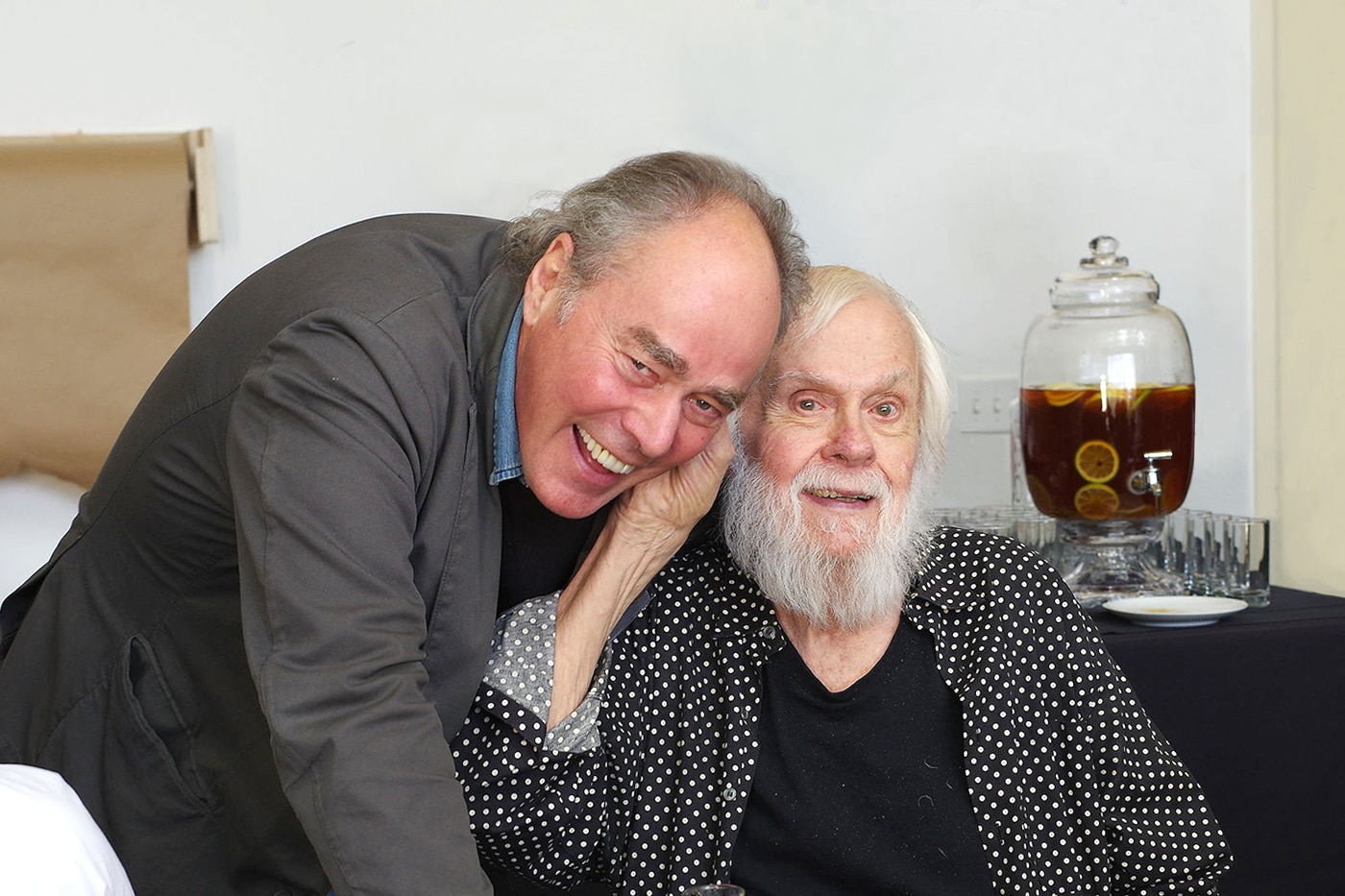 In a tribute video for Lawson, unveiled at the 2021 virtual graduation ceremony on May 14, CalArts faculty member Sam Durant (Art MFA 91) praised Lawson's "historic" dedication to the School of Art. "A few highlights for me: your tireless efforts to rebuild the school after the 1994 Northridge earthquake, [the] defense of art students and freedom of expression against a lawsuit, and your superlative leadership in the past year dealing with the COVID crisis," Durant said. "These are extraordinary moments, and they shouldn't prevent us from recognizing the incredible grace, humor, and fair-mindedness with which [you] dealt with all of the everyday duties as a dean. There will not be another like you, Tom."
Also under Lawson's watch, new graduate studios for the Photo/Media Program were built as well as the John Baldessari Studios—a new studio and class complex—which opened in 2015, thanks to the creative fundraising of Trustee Jill Kraus. Another physical space in the Art School is now dedicated to ceramics production, which has proved to be overwhelmingly popular with a new generation of students who passionately seek manual art-making opportunities.
On the academic side of Lawson's accomplishments, an Integrated Media graduate concentration morphed into a new Art and Technology Program, and the long-standing program in Photography refashioned itself to be the Program in Photo/Media, to respond to new directions in media arts and web-based activities. He also introduced Practicum, a series of technique-based workshops in early January that soon became a popular feature of the academic year.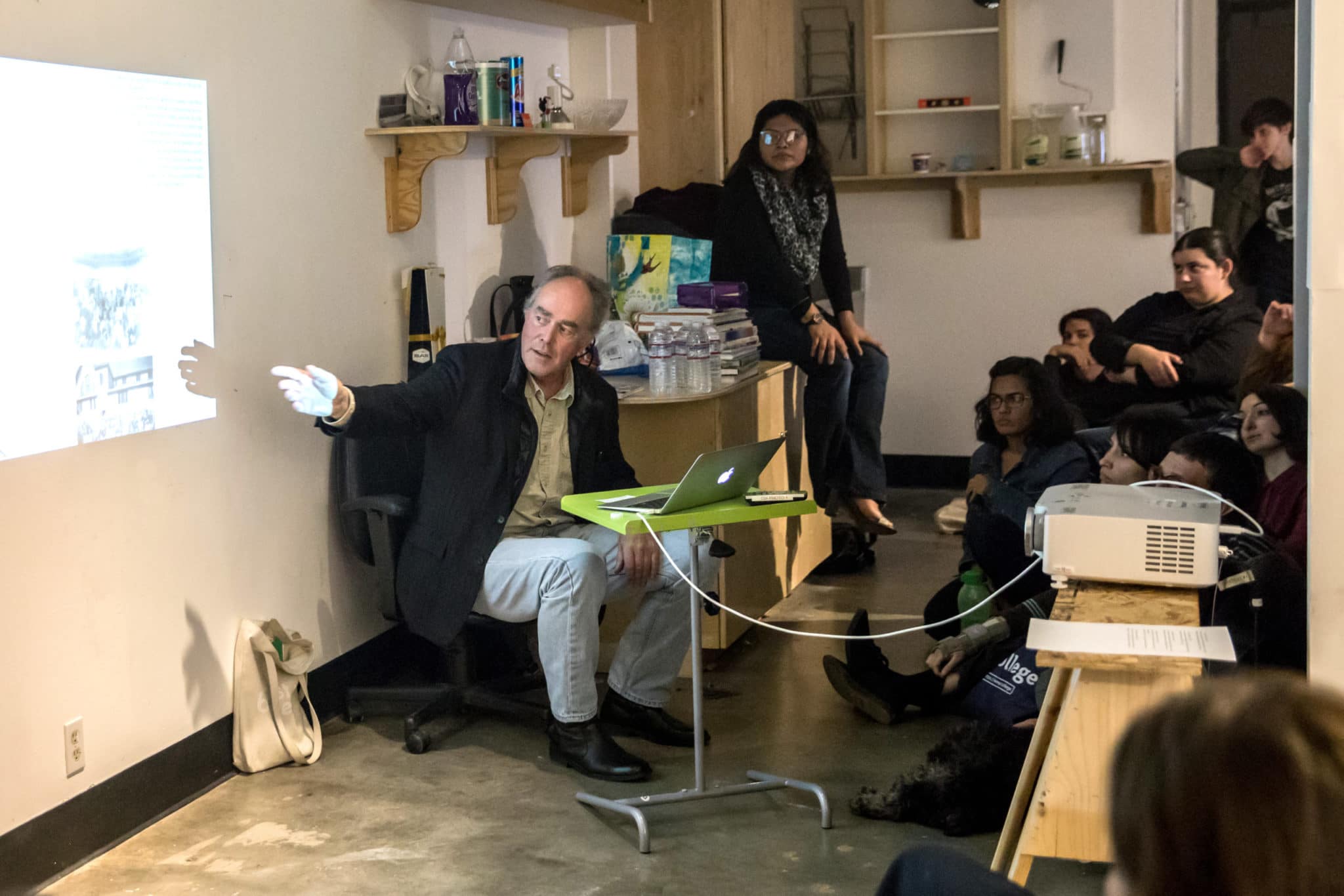 During his tenure, the Graphic Design program launched a productive partnership with online education provider Coursera that has increased the visibility and reach of the program as well as inspired curricular innovations that are an exemplar for other programs at the Institute. Lawson also sought to reflect changing demographics in Art School faculty hires, attracting a diversity of instructors on many levels: gender, race, ethnicity, and more.
"Under Tom's guidance, the School of Art has held steady to the critical and experimental art practice on which it was founded while also dynamically responding to new technologies and emerging arts practices," noted CalArts Provost Tracie Costantino. "Through his leadership, faculty and students remain committed to the originating idea, which is that art is a discursive practice, one that must be discussed, challenged, investigated, and provoked."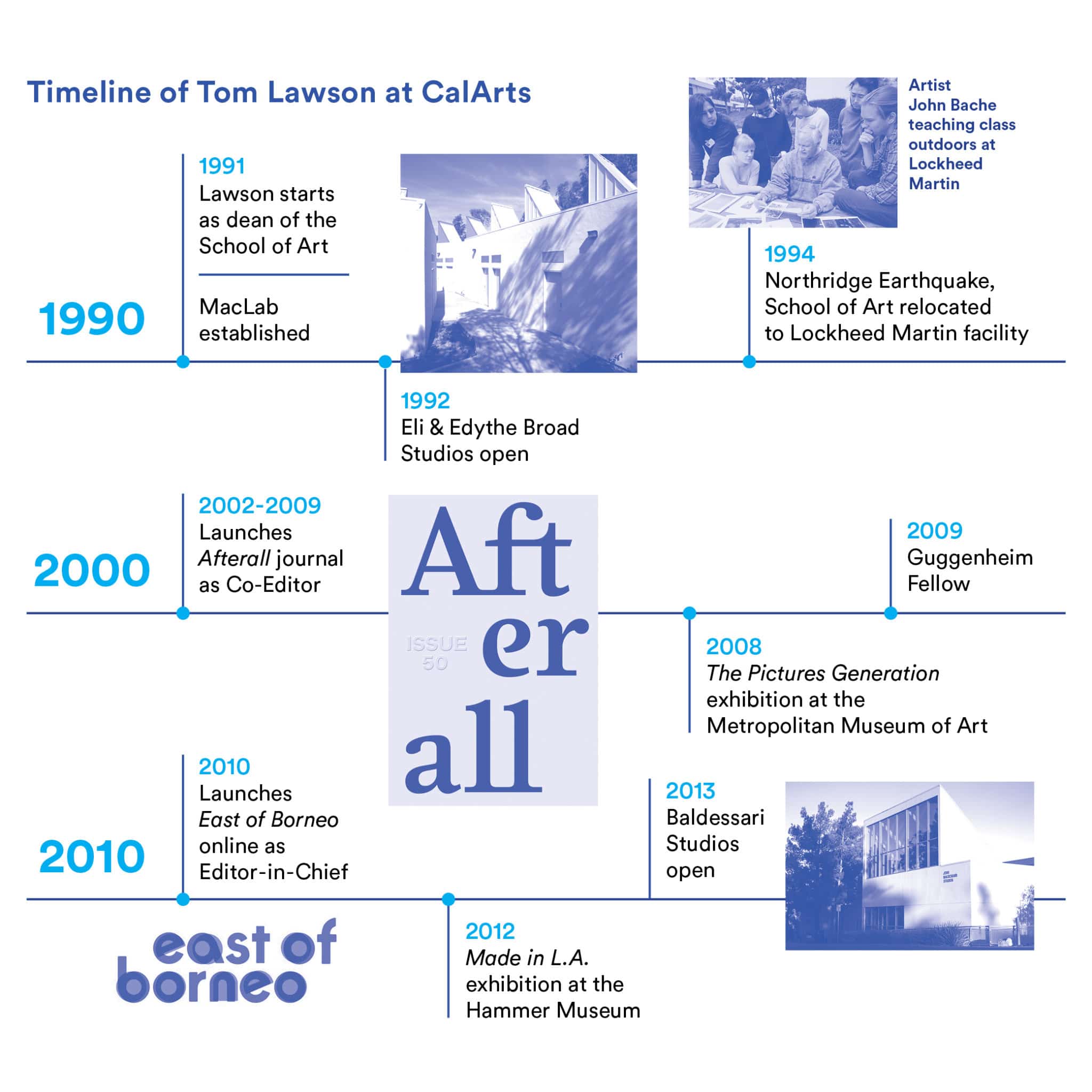 Lawson ensured that those discussions and investigations of art moved beyond the classrooms and studios. Between 2002 and 2009, he served as co-editor of Afterall, a joint publication between Central Saint Martins, London, and CalArts. The collaboration ended so that Lawson could focus on launching a new, online-only publication, East of Borneo (EOB). As editor-in-chief of the journal, EOB has become the de facto archive of art from Southern California, including a great deal of historical material about the evolution of CalArts itself.
Though 2020 would've seen more international travel and collaboration, Lawson still led significant progress in that area recently, utilizing the virtual classroom to develop an even more international program and thinking into the future around that.
"One of the great things about CalArts is how much we enjoy talking about art and its relation to the culture at large and to politics and to life. And that's one thing you can actually do on Zoom," said Lawson.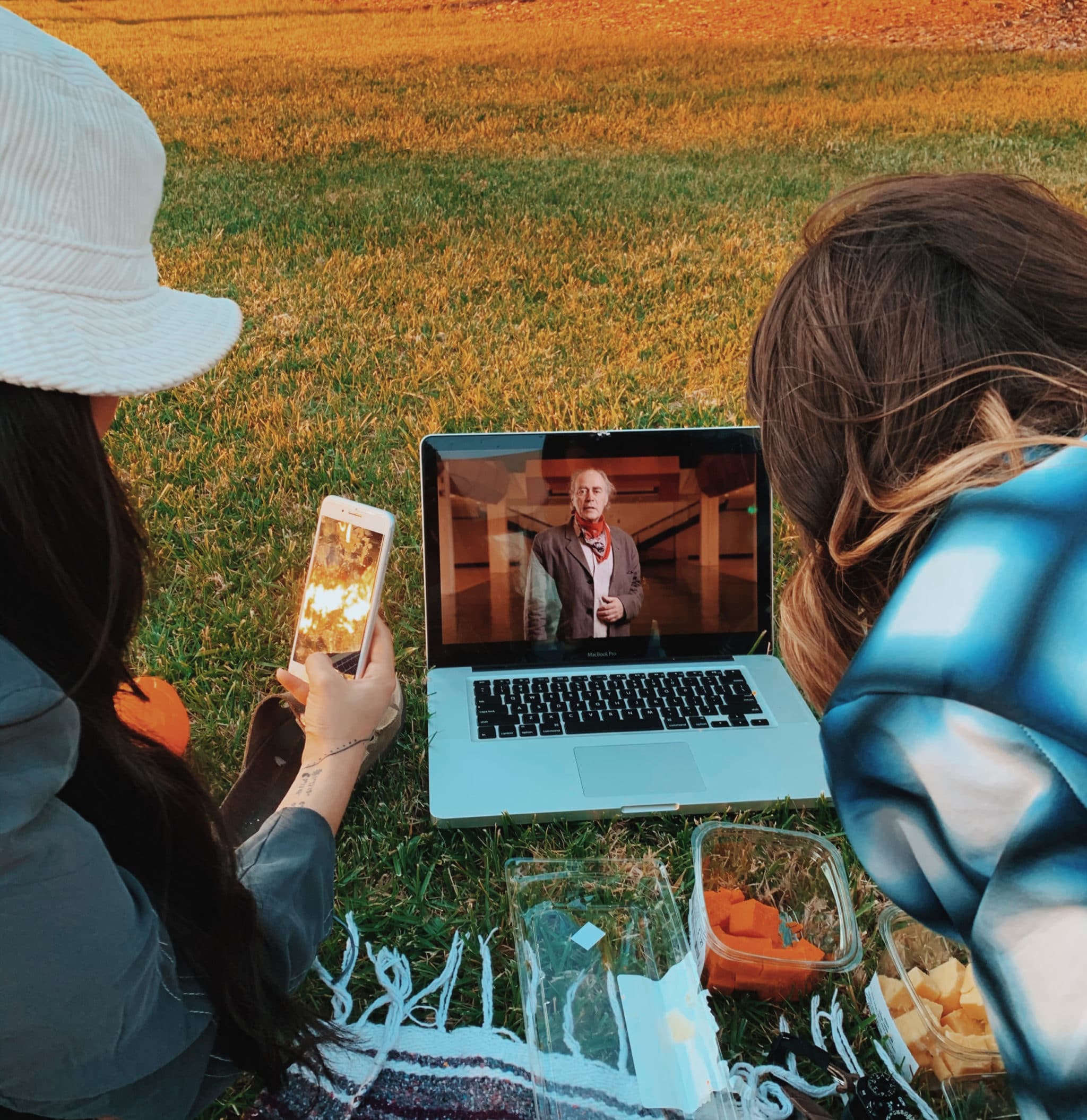 Lawson has also balanced a busy art practice throughout his deanship. His work is included in the public collections of the Brooklyn Museum, New York; Hammer Museum, Los Angeles; and the Tate, London, among other museums. He's had solo exhibitions at the Dallas Biennial (2014); LAXART, Los Angeles (2007); Third Eye Centre, Glasgow and Battersea Arts Centre, London (1990); and the La Jolla Museum of Contemporary Art, La Jolla, California (1987). Group exhibitions include Ends and Exits: Contemporary Art from the Collections of LACMA and The Broad Art Foundation, Los Angeles County Museum of Art (2013), and Made in L.A. 2012, organized by the Hammer Museum and LAXART, Hammer Museum, Los Angeles (2012).
In 2009 he became a Guggenheim Fellow, recognized for his work in painting. That same year, he was included in two historical surveys of the Pictures Generation, of which he was a part in his early career, at the Metropolitan Museum in New York, and Magasin in Grenoble, France.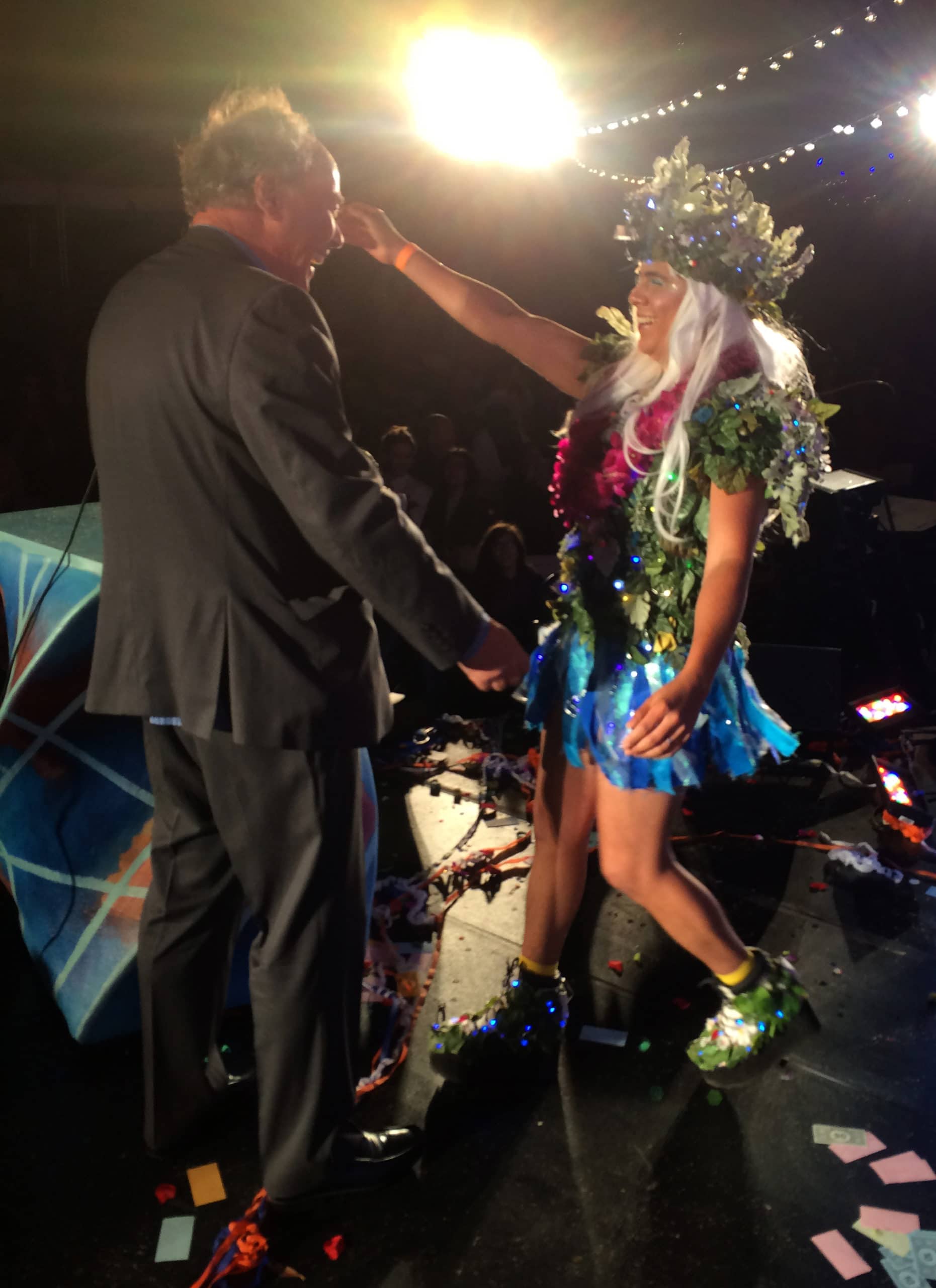 Lawson's memories of CalArts are many: from post-graduation parties in Val Verde to bringing incredible artists to campus and carrying the CalArts mission around the world. But it's the long-term friendships and the swelling pride of seeing CalArtians make their marks in the world that he says is the most gratifying over his 30 years as dean.
"Obviously one of the great things about teaching—especially at CalArts—is working with students whose ideas and optimism keep you young at heart, always challenged, day to day," said Lawson. When asked what he'll miss most from his tenure as dean, he mentioned the friendships and the pride of seeing someone he's worked with do well, something that will certainly continue in his classroom.
As parting advice for students, Lawson encourages them and other emerging artists to always follow their dreams but to also "do the hard part—persevere."