Aerial advertising usually lets us know three things: someone somewhat near you is hopefully getting married ("Will U Marry Me?"), that you might be able to save money on car insurance, or that whatever you're doing, "It's Miller Time." These are not, however, the kinds of messages Americans would have seen in the sky during Independence Day weekend 2020.
Instead, over the holiday, in 11 cities across the country, fleets of skytyping airplanes spelled out messages such as "Shame #Defundhate," "Care Not Cages," and "Unseen Mothers," as part of the art initiative In Plain Sight. (The skytyping technique allows for more planes to collaborate on phrases using a computerized release of dots and dashes, whereas skywriting relies on the skills of a single pilot to control the release of smoke manually.)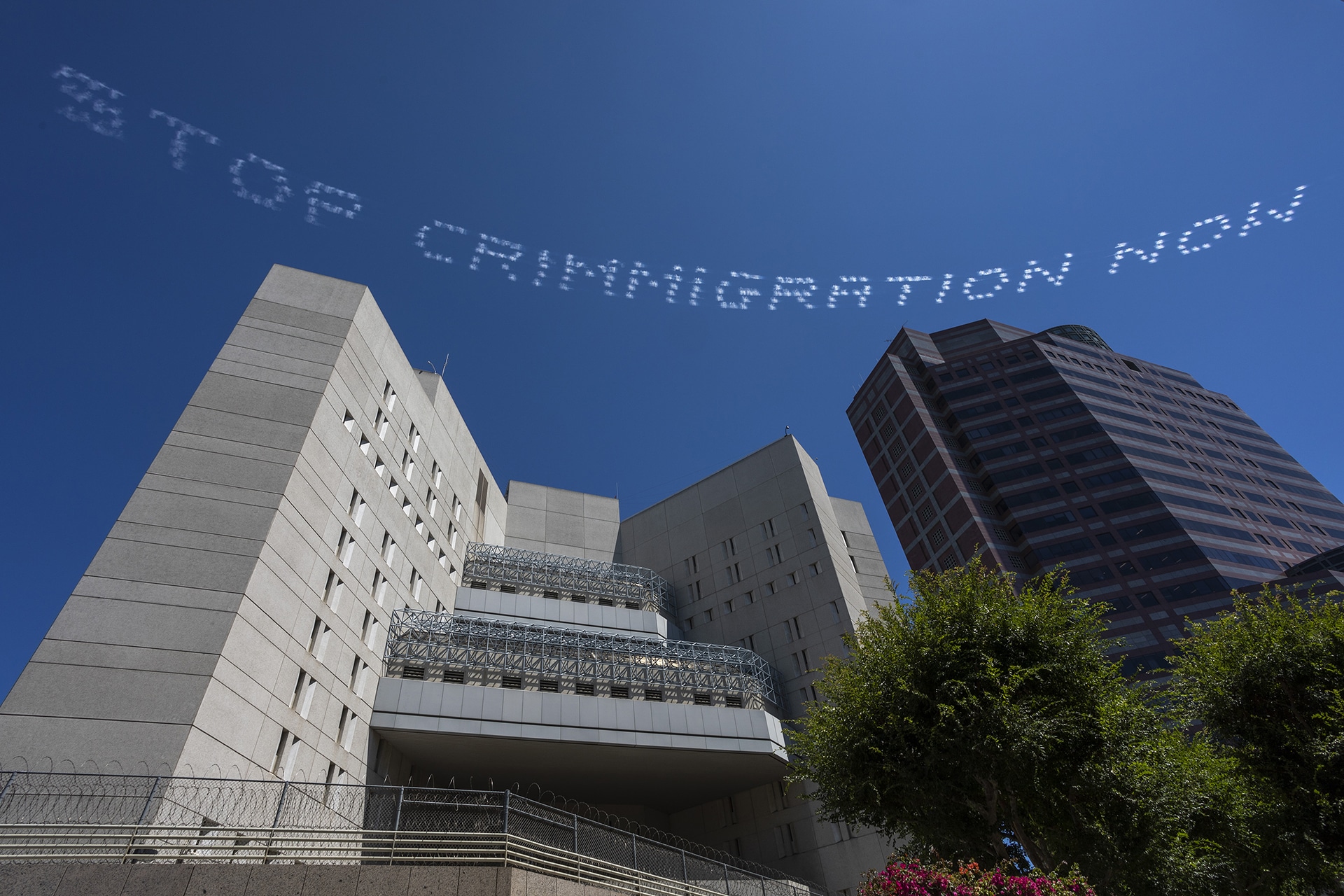 Created by interdisciplinary artists Cassils (Art-IM MFA 02) and rafa esparza, In Plain Sight is a coalition of 80 artists dedicated to the education, engagement, and mobilization of people to end immigrant detention and imprisonment. Their work raises awareness of the life-jeopardizing conditions in detention centers and the injustice of detained immigrants being denied access to adequate medical care, legal counsel, and family contact.
All 80 artists who joined the coalition are either from immigrant families or are immigrants themselves. Many are also CalArtians, including Raven Chacon (Music MFA 04), Edgar Arceneaux (Art MFA 01), School of Art faculty Harry Gamboa Jr., Arshia Fatima Haq (Art MFA 05), Gala Porras-Kim (Art MFA 09), Robert Russell (Art MFA 06), Zackary Drucker (Art MFA 07), and Beatriz Cortez (Art MFA 15).
Cortez, a Los Angeles-based artist who immigrated from El Salvador, chose the phrase, "No cages, no jaulas," which was emblazoned above downtown Los Angeles.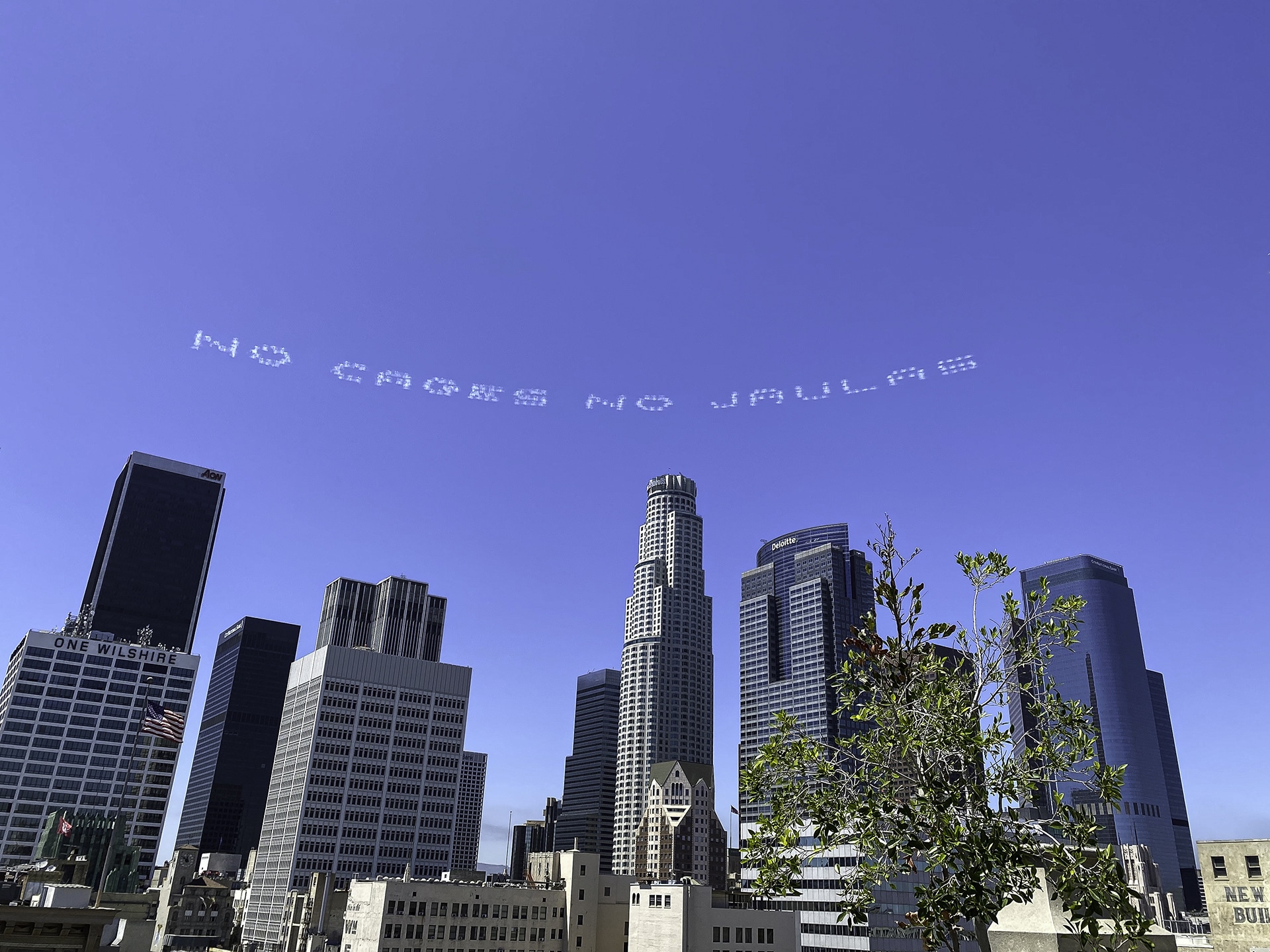 "My work is about the world around me, about the connections between multiple temporalities, and the invisible histories of sites," said Cortez. "Sometimes, I find materials to reconstruct these histories in an archive, sometimes in a garden or in stone, and sometimes in detention centers all around us."
Since Independence Day weekend, In Plain Sight has launched a robust Cultural Partnerships program, which includes panel discussions, film screenings, exhibitions, musical performances, public art campaigns (digital murals, projections), and postcard-writing events.
From Sept. 29-Nov. 29, several In Plain Sight artists, including Cortez, are featured in "WE LIVE! Memories of Resistance," a group exhibition at Occidental College. "Their artworks transport viewers through pasts, both real and imagined, to propose a future beyond white supremacy, settler colonialism, and the brutality of policing and punishment," according to the program. In Plain Sight and WE LIVE! have also been integrated into 15 courses across Occidental College's curriculum.
Additional forthcoming In Plain Sight initiatives include artist activations in New Orleans, New York, and Los Angeles. The coalition is also planning a summit in 2021 that will bring together organizers, artists, and the public for a weekend of art, dialogue, and action.
"It [In Plain Sight] is about moving collectively, speaking collectively, and it not only connects with my practice, but it also taught me a lot," said Cortez. "It brought me a lot of gifts, a lot of visions that as an immigrant and as an artist I wanted to see."