I began CalArts just when the Valencia campus opened in the fall of 1971. On the first day of class, School of Art students assembled in a large room with clerestory windows. Dean Paul Brach stood at a podium and brought the gathering to order with these memorable words, "Summerhill is over." Summerhill, the radically progressive school in England, was on everyone's mind in the late 1960s and early '70s. The whole reason I had transferred to CalArts was that I hoped CalArts would be Summerhill.
Brach also mentioned that John Baldessari was on leave and would return in the spring. This announcement passed by me because I didn't really know who John Baldessari was; I just wanted to go to Summerhill. John was a name on a list of people I might study with. Someone I had heard of was Allan Kaprow. His "happenings" were featured in the publicity CalArts sent out to prospective students. Kaprow's events reminded me of the poetic pieces of Yoko Ono, whose work I was enamored with. I loved her 1964 artist's book, Grapefruit, which contained instructions for simple actions such as, "Leave a piece of canvas or finished painting on the floor or in the street." Ono's book, reissued in 1970, was a sacred text for me and for many young artists I knew.
I don't know for sure, but I think John chose the term "Post Studio" for his class because it described the new modalities he was using to make his own work in photography, text, video, and film. The class met in a large windowless room in the basement, across the hall from the graphics lab. The dozen or so students sat on uncomfortable Rowland chairs or lounged on gym mats on the floor. John always started class with a few jokes and ruminations about art. Then we would put up work for critique, and he'd respond with witty, gnomic comments that were always astute and encouraging. John was very protective of his students, and he supported us in any direction we wanted to take.
No sooner had the semester started than John left for exhibitions in Europe. When he returned, he brought to class two suitcases full of art catalogues that we all poured over. John's career was gaining steam in Europe and New York. And his absences, while painful, were allayed by the new ideas and new artists he enthusiastically shared with us upon his return.
John seemed to bring all his friends who passed through Los Angeles to class to give talks or do studio visits: Bruce Nauman, Alexis Smith, William Wegman, Keith Sonnier, Joan Jonas, Robert Smithson, Hilla Becher, John Knight, Dan Graham, Sol LeWitt, Richard Serra, Pat Steir, and Martha Wilson. Daniel Buren, after speaking about his work, invited the class out to a local bar in Newhall.
Once, Post Studio met in John's studio in Santa Monica. At this point, John was taking photographs off the TV and we all saw his apparatus, a 35mm camera on a tripod facing a large television set. The camera was outfitted with an automatic timer that allowed it to photograph the television at regular intervals. I was fascinated. John could turn on the TV and camera, drive up to CalArts, teach his class, and return to the studio knowing he made some art during the day.
In John's catalogue raisonné, many of the photographic works for the period 1971–73 employ two photographic gambits: choosing and framing. See, for example, Choosing (A Game for Two Players) Turnips, or Pier 18: Centering Bouncing Ball (36 Exposures). In these works and others, John was forging an art that was light and to the point. No metaphors, no metaphysics. Clear and simple utterances. I wonder if the conciseness of these works was a response to the rambling and sometimes obscure rationales students applied to their work in Post Studio. However John arrived at these degree zero pieces, his strategies for making photographs were revolutionary. I think it's safe to say that John viewed all "serious" art photography as little more than rearranging the deck chairs on the Titanic. At this point in his life, he approached art as a game. All the better if it were a mindless game.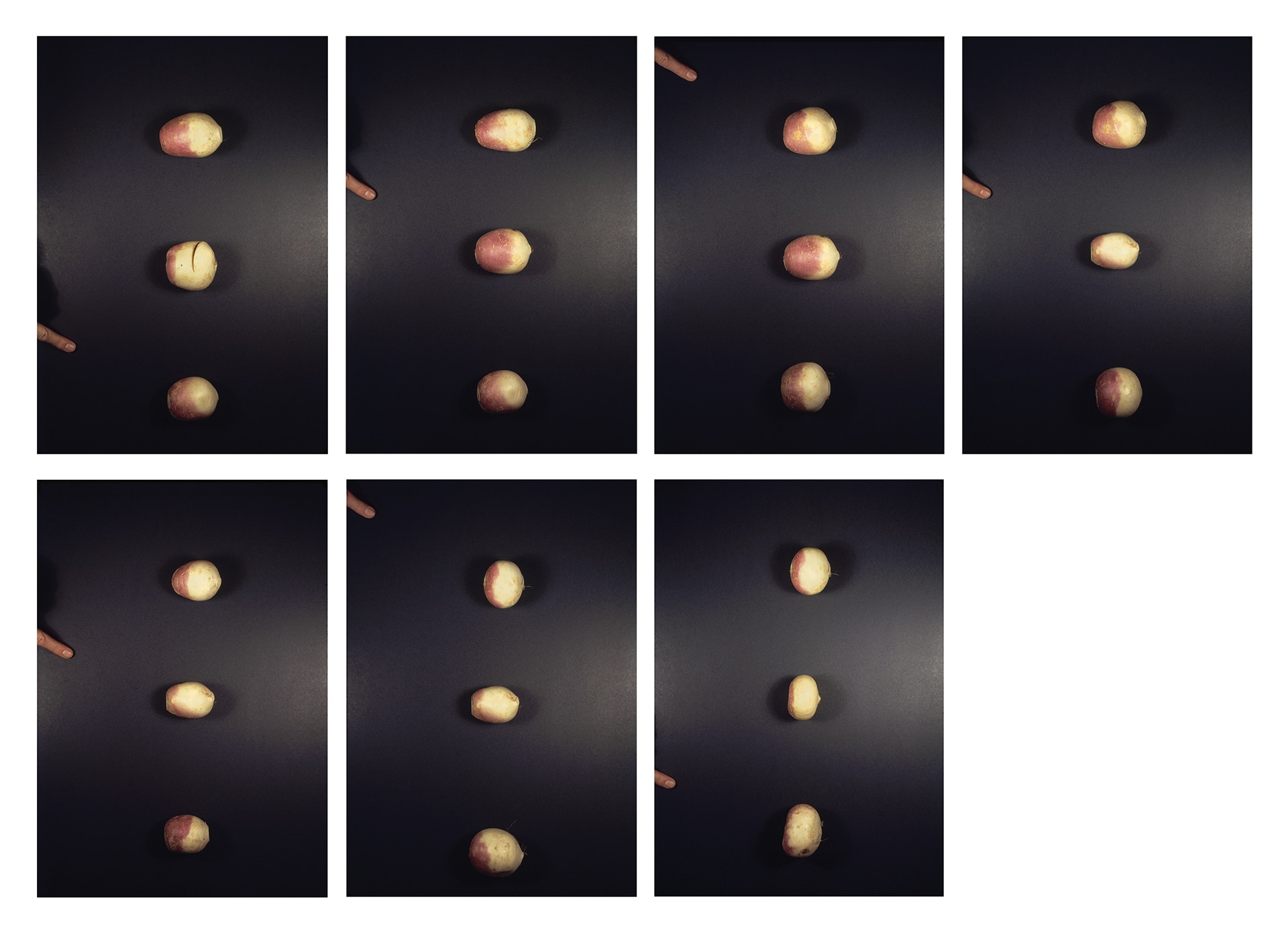 In a memorable, low-fi video from 1971, I Am Making Art, John stands in the white, cinder-block Post Studio classroom slowly repeating the phrase, "I am making art." I think of this piece as the lesser-known sibling to his more famous work I Will Not Make Any More Boring Art from the same year. In I Am Making Art, John moves his arms this way and that. "I am making art." He turns slightly. "I am making art." He continues making a new gesture between each vocalization. "I am making art."
A dedicated cohort of students, some of whom were not enrolled at CalArts, gathered around John over my three years at CalArts: Dede Bazyk, Jill Ciment, Robert Covington, Ken Feingold, Lisa Koper, Suzanne Kuffler, Chris Langdon, Paul McMahon, Branka Milutinovic, Joshua Mulder, Matt Mullican, Renee Nahum, David Salle, Bart Thrall, and Dave Trout. As the semester went on, we coalesced into a tight group and spoke the language of "post studio art" in photographs, videos, texts, and super 8 films.
One afternoon at the end of that first semester with John, some of the class went across McBean Parkway to make photo pieces. We passed around a camera and took photographs in the undulating chaparral. A little later John, Matt Mullican, and Dave Trout found a tire and dragged it to the top of a small hill. They let it roll, and I photographed it zooming past me. At the end of the afternoon, before we headed back to the classroom, we posed for a photograph under a California live oak. I backed up to include the entire tree and photographed John, Matt, Dave, and Dede Bazyk smiling in the hazy sunlight. We had found Summerhill.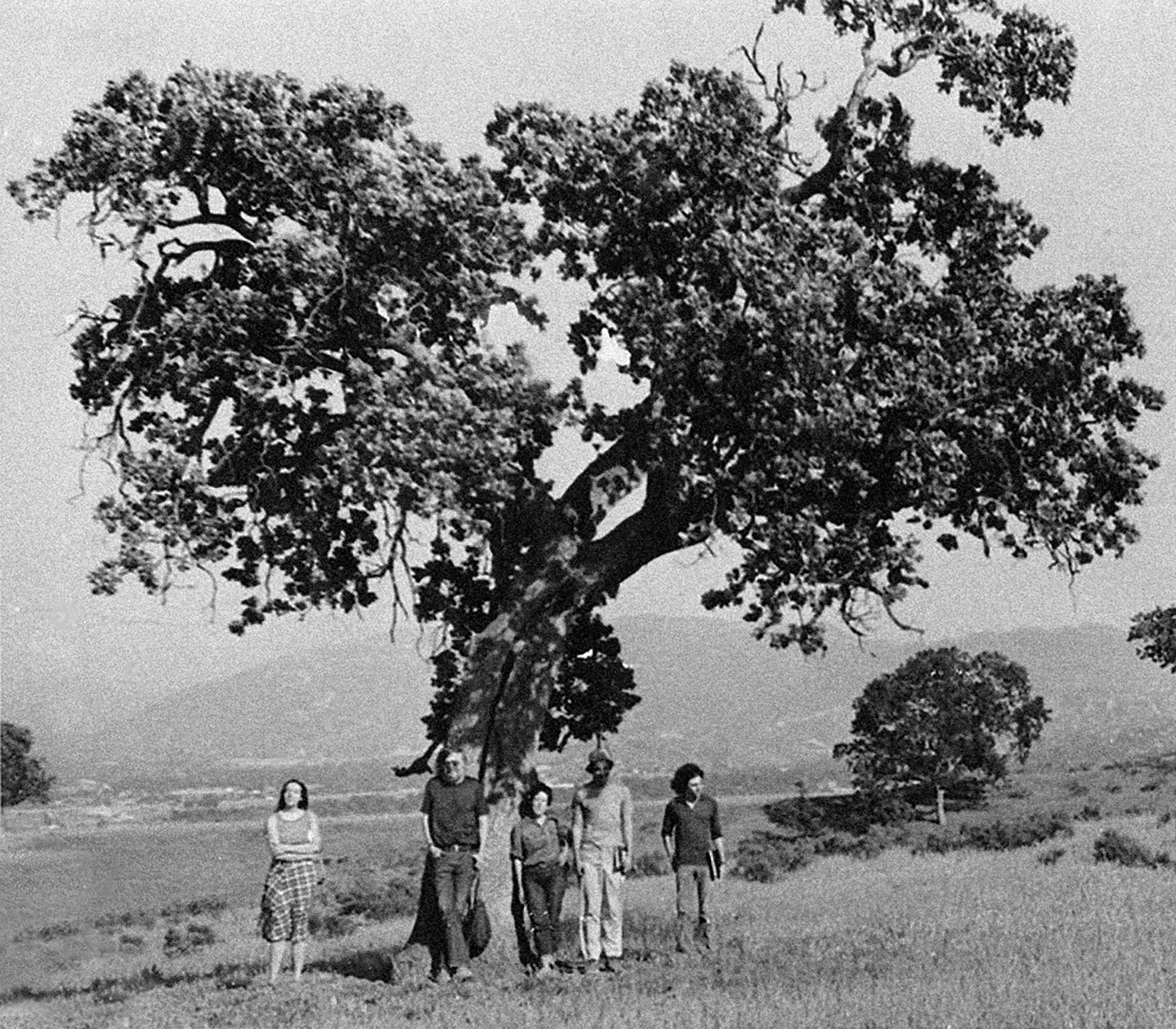 CalArts established the John Baldessari Memorial Scholarship to highlight his remarkable and enduring legacy by providing financial assistance to talented students in the School of Art. Show your support at calarts.edu/donate.
ALL WORKS BY JOHN BALDESSARI © THE ESTATE OF JOHN BALDESSARI
---
As we mourn the passing of John Baldessari–an important American artist, a most prominent Chouinard alumnus, and a seminal, influential teacher in the CalArts School of Art, we're collecting memories of John, and invite you to contribute yours