"CalArts is its own city, its own world, an alternate universe where posters rule!" writes Michael Worthington (Art MFA 95), CalArts Graphic Design faculty, in a new book celebrating the remarkable CalArts Poster Archive.
Released in April by MW Books, Inside Out & Upside Down: Posters from CalArts, 1980–2019 provides an inside look at the ephemeral history of the Institute, revealing CalArts as a haven for postmodern graphic design.
Featuring more than 500 student and faculty–designed posters, the comprehensive compendium reveals the long and rich history of graphic designers producing experimental posters for the countless artists, musicians, performers, dancers, and thinkers who have visited CalArts over the years.
It also features work from a who's who of Southern California graphic design from the last half century. The book includes influential CalArts faculty Ed Fella and April Greiman, as well as esteemed alumni Denise Gonzales Crisp (MFA 96), Geoff McFetridge (MFA 95), N. Silas Munro (MFA 08), Brian Roettinger (BFA 04), Andrea Tinnes (MFA 98), Tim Belonax (MFA 11), Barbara Glauber (MFA 90), Zak Kyes (BFA 05), and many others.
"What all these posters have in common is that they have existed outside the mainstream, barely engaging with the visible canon of design," Worthington, who also edited the book, explains. "They have been made for a narrow audience, sometimes of one (the designer), and have existed inside the Institute—albeit a radical experimental institute—but outside the traditional function of design, without the traditional designer/client relationship. These are not obedient works, they break rules, they misbehave, and sometimes they are an unruly mess."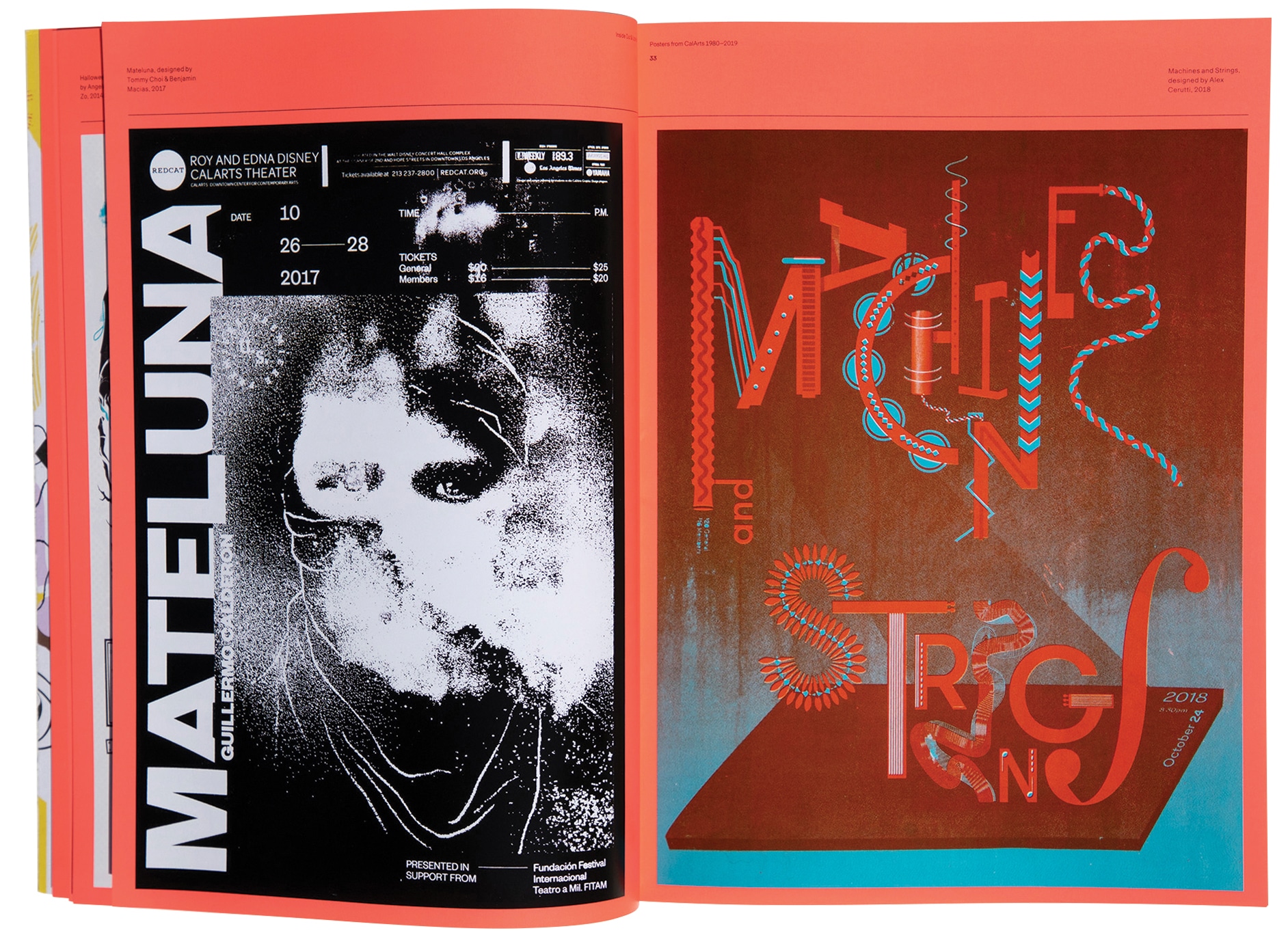 Since CalArts first opened its doors in 1970, students and faculty have designed, printed, and hung thousands of posters on campus to announce events to its captive audience. It wasn't until the late '90s, after the Northridge earthquake caused considerable damage to CalArts, that faculty members Shelley Stepp and Kary Arimoto-Mercer began collecting posters from the hallways.
As the archive grew, additional faculty began to donate from their personal collections, and a formal process for acquiring designs from students was established. In late 2016, thanks to funding from the Graphic Design program's acclaimed online courses, a three-year plan was conceived to digitize the archive and create a website, an exhibition, and a publication.
More than 2,000 posters—ranging in production techniques from offset printing to handmade Xeroxed flyers, with most produced as silk screen prints—are currently online, with more than 1,000 others yet to be photographed and uploaded.
Inside Out & Upside Down features 70 different covers made by CalArts faculty, alumni, and students. The poster images are accompanied by interviews and essays from renowned designers and CalArtians Louise Sandhaus (MFA 94), Sarah Gottesdiener (MFA 13), Ian Lynam (MFA 04), Lorraine Wild (faculty), Jon Sueda (MFA 02), Gail Swanlund (MFA 92), Jeffery Keedy (faculty), and more.
A related exhibition, Inside Out & Upside Down: Posters from CalArts 1970–2019, will open at REDCAT later this year. It will also include rare posters from the Institute's first decade, as well as posters designed for CalArts affiliates such as the former Machine Project gallery and REDCAT itself.
Books are available for purchase at posters.calarts.edu.