Many CalArts alumnx are finding unique ways to apply their artistic training as entrepreneurs within the food industry, in particular within Los Angeles' booming foodie scene. The five profiled here are among those grads finding support for and synergy with their creative practice through experimentation and innovation in the search of new flavors.
Archie Carey (Music MFA 11)
SOLARC Brewing
An LA-based brewing company founded by Archie Carey and Saul Alpert-Abrams, Solarc Brewing makes beers that stand out. Or are "weird," as Carey calls them. Don't let the long lists of ingredients scare you off—such as yarrow, kumquats, or Earl Grey tea—Solarc specializes in gruits, a type of beer bittered by ingredients other than hops.
Carey met Alpert-Abrams, through Alpert-Abrams' partner (and now wife) Claire Chenette (Music MFA 12), while both were studying at CalArts. (Carey studied bassoon and still performs, notably with LA's experimental classical ensemble wild Up, of which he is a founding member.) Carey and Alpert-Abrams connected over their love of making things, and early on the friendship grew by brewing beer together as a social activity. Together they tackled the standards, such as IPAs and lagers, but over time, their recipes evolved to include more flavors, including grapefruit plucked from trees in Alpert-Abrams' backyard, Hatch chiles from the farmers market, and mushrooms purchased from shops in LA's Chinatown. The pair picked whatever was readily available given the season. Solarc is an amalgam of their first names but, more importantly, a nod to what Carey calls the brewery's "aggressively seasonal" approach. "We brew with the sun," Carey says.
"In those early days, we made so much beer we couldn't drink it all, so we started sharing it with friends," Carey recalls. Solarc's bold experimentation was encouraged by his peers—mostly alumni from The Herb Alpert School of Music at CalArts who, like Carey, are active in LA's experimental and classical music scenes. "So much of our community comes from CalArts—if it weren't for them coming to our events and encouraging us to experiment wildly, we probably wouldn't have gotten this business off the ground."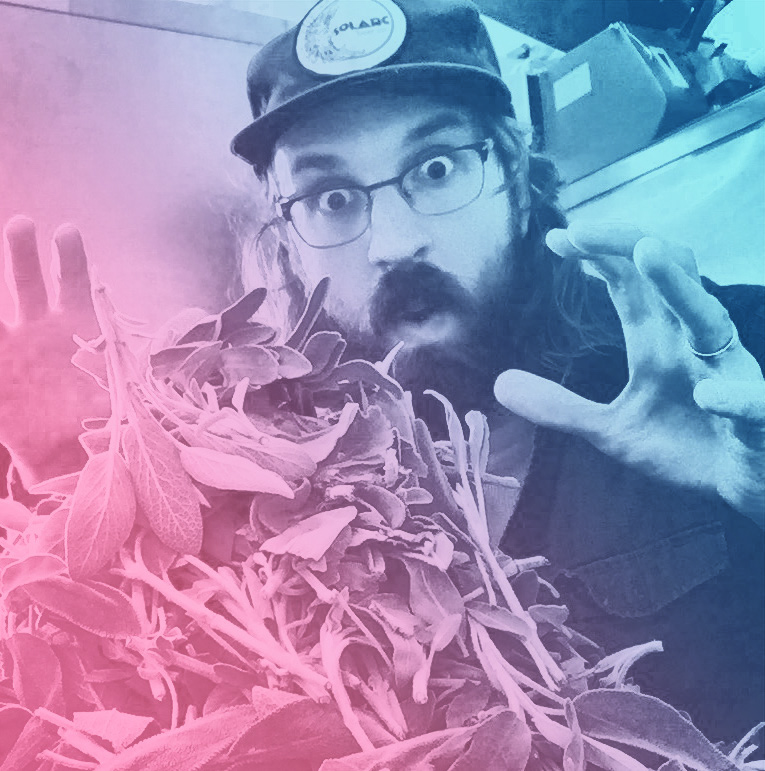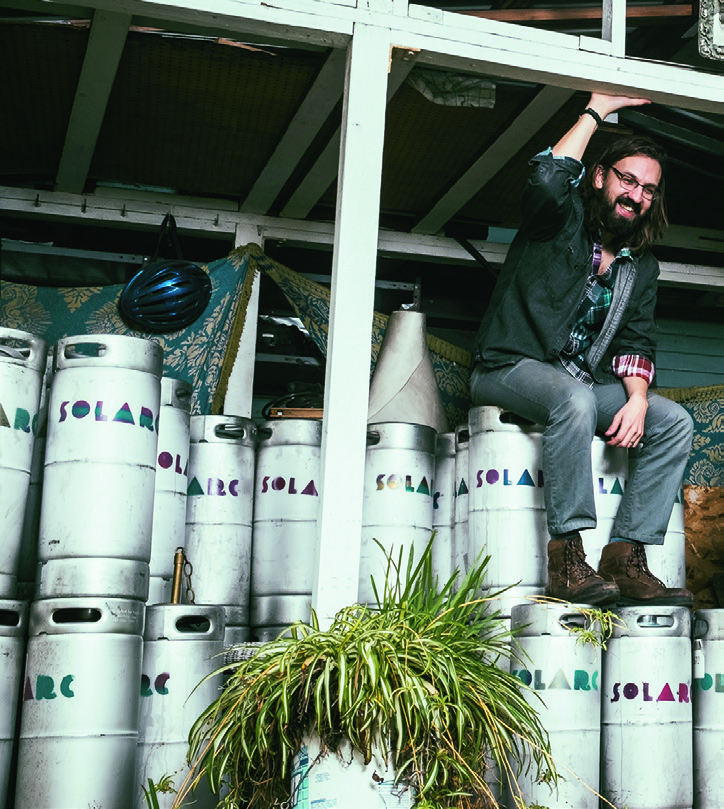 After hosting several private tastings under their new moniker, Carey and Alpert-Abrams decided to turn their hobby into a business. With a wholesale beer license in hand, Solarc Brewing launched Dunes in 2015, a Belgian golden-style IPA featuring wormwood, sage, lemongrass, mugwort, and turmeric. Dunes wasn't an obvious choice for a fledgling brewery. Carey explains: "Launching an IPA is a safer bet because everyone likes it, but we chose to make something that stood out." After the launch of Dunes, Solarc snagged a distributor, and has created nearly 20 different beers since.
In 2018 Alpert-Abrams left the business to start a graduate program out of state and Carey has since been running Solarc solo. Now he is working on a new home for Solarc's offbeat brews: a brick-and-mortar building in Glassell Park, about a 10-minute drive north of Dodger Stadium. The venue is slated to open by the end of 2019 and will feature a tasting room and performance space. Carey has plans to curate monthly music events there, too, bringing in some of his wild Up collaborators. "When I was younger, 'entrepreneur' seemed like a bad word," Carey says. "But as an artist, you kind of are your own business. … I want to be someone who makes things and puts them out into the world. Solarc is just one way of doing that."
---
Tai Kim (Art BFA 95)
Scoops Ice Cream
In a city where the weather is predictably sunny on any given day, ice cream is a year-round indulgence. And while artisanal frozen treats are everywhere to be found, Tai Kim's Scoops is still the OG ice cream shop in Los Angeles.
Kim transferred into the BFA program in Art at CalArts, and quickly put his painting practice aside in favor of a more performative one. "CalArts had opened my eyes to so many mediums you could challenge," Kim recalls. "The school is open to anything." His studio became a gathering place for post-gallery night affairs, where Kim would alternately host karaoke parties and events he dubbed his "kitchen project," at which he served Korean noodles and other dishes with a twist to his peers.
After graduating, Kim started to consider culinary school. "If I wanted to get more serious about making an artistic statement with food, I felt I needed to learn some skills," he says. He enrolled at the Western Culinary Institute in Portland, Ore., where one of his program requirements was mastering a proficiency in making cheese or ice cream. Kim chose the latter, given that it took less time to produce. Ultimately, in Kim's mind, ice cream was the vehicle for further experimentation and an attempt to get people interested in new flavors.
Eventually moving back to LA, set on opening his own ice cream shop, Kim rented a cheap storefront on Heliotrope Drive in East Hollywood, and in 2005 opened Scoops. The shop was initially a one-man show, with Kim making the ice cream and scooping it to customers. Over the years he added staff and expanded to four more locations in the city, splitting operations with a former employee. (As of this fall, with rising rent costs and more competition flooding the foodie landscape, Scoops will have a total of three locations in LA: Highland Park, Chinatown, and Torrance.) Today Kim's primary role is sourcing ingredients and shopping at various markets throughout the city: Thai, Filipino, Chinese, Korean, Bangladeshi, and Armenian. "The nice thing about living in LA is that it's so culturally diverse and I have access to a lot of new flavors," he says. While Kim's signature "brown bread" flavor (actually made with Grape-Nuts) is always on the menu, he tries to switch up the menu daily, offering flavors such as green tea Oreo, miso butterscotch, or coconut lavender.
For Kim, Scoops is more than making a statement with food. "Making art," he says, "you want to share your knowledge with people, but I found it a bit difficult to do in a gallery setting. With ice cream I get to educate customers and encourage them to try something they may not be familiar with."
~ @scoopsbic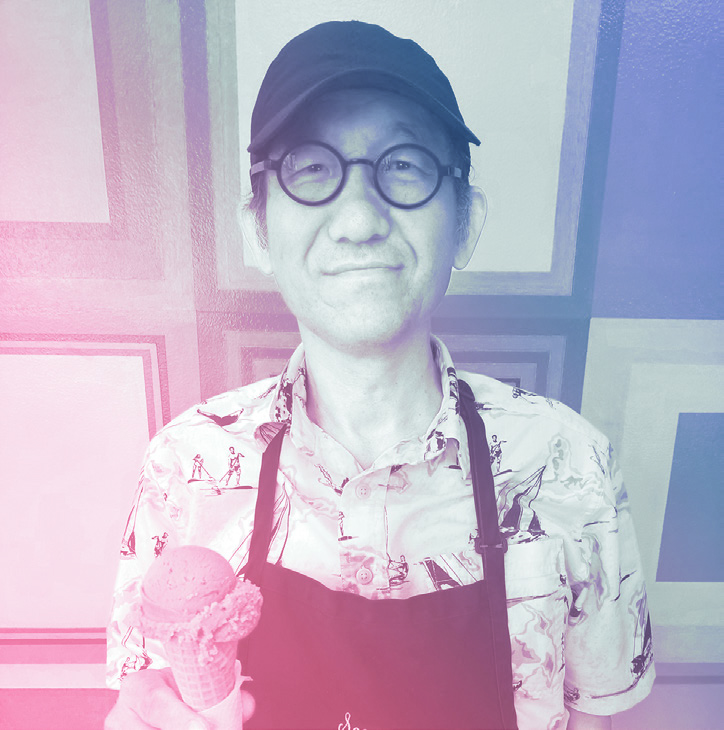 Mark Stambler
(Film/Video BFA 78)
Pagnol Boulanger
If you haven't heard, Mark Stambler has a bit of a reputation in Los Angeles. He has been churning out loaves of hearty whole grain bread through his bakery, Pagnol Boulanger (named after the French film writer and filmmaker Marcel Pagnol), for more than ten years, though Stambler has been perfecting his bread-making technique for at least forty.
As a student in the Film/Video program at CalArts, Stambler worked primarily on scripts: "I always fancied myself as a writer—it was the aspect I most enjoyed." Living on campus, Stambler couldn't bake bread in the dorms, so he relied on friends' kitchens in Newhall to continue his practice. It was while studying at CalArts that Stambler first started using wild yeast, making a natural sourdough starter from the yeasts in the air. He eventually swapped out white flour for milled whole grain. "Over the years, I decided to shift my technique toward more primitive methods," he says. Today all Pagnol's bread use both wild yeast and whole grain flour, from the bakery's "flagship" Pain Levant loaf to its brioche and Linzer tortes.
After completing his degree in 1978 and a short stint in the film industry, Stambler eventually worked as a grant writer and consultant for nonprofits. He continued to hone his bread-making technique, turning out loaves from a wood-fired brick oven in his backyard. Bolstered by a couple of first-place ribbons at the Los Angeles County Fair and California State Fair, in 2005 and 2006, Stambler began selling his bread through local businesses. The buzz was genuine. But after the Los Angeles Times profiled Stambler in its pages, the health department shut him down for violating restrictions on the commercial sale of home-cooked wares.
Rather than fight city hall, Stambler teamed up with Mike Gatto, then-assemblyman for the 43rd district, to propose the California Homemade Food Act, which would allow small-scale food entrepreneurs to produce and sell certain foods made in domestic kitchens. The law was passed by the State Legislature and became effective in January 2013. "It was a real win," Stambler says, "For me, it was about returning food to the hands of the people and strengthening food communities in this city."
While Stambler has since moved all his baking up to Pagnol's new location in Baywood-Los Osos—a "quintessential small town" near San Luis Obispo on the California coast—he still mills the grain at his home in Los Feliz. Stambler is currently working with his pastry chef on perfecting Pagnol's croissant—a version with wild yeast and whole grain. "It's close," he says.
Saehee Cho
(Critical Studies MFA 10)
SOO N
Saehee Cho describes herself as a "writer and cook." Such prosaic terms don't begin to suggest the exquisite food she makes, from custom cakes to artful tapas to luscious late-night pasta dishes.
Food has been a central part of Cho's life since she was young—her immediate family finds pleasure in cooking together, but much of her culinary interest stems from time with her grandmother. Cho spent several summers with her in Korea and Singapore, following her around with a notebook and watching her cook. "Those summers were exciting, sensorial experiences," she says.
While studying in the Creative Writing program at CalArts, the School of Critical Studies hired Cho to cater student thesis readings and visiting writer events. "I set up this challenge for myself every two weeks. If I wasn't writing I was cooking—it was very laborious! I didn't recognize myself as a food professional then, but CalArts did," she says. Cho found a very receptive test audience among her classmates at CalArts, which eventually prompted her to create SOO N.
Cho describes SOO N as an "art-food concept" more than a business—rather, she sees SOO N as a creative endeavor and a labor of love. Speaking about her custom cakes, Cho says, "Cakes don't make sense for a business, in terms of labor and ingredients. I'm almost never making a cake for someone I don't know." Each cake has a customized flavor and is decorated with flowers Cho picks from her garden or local flower market. Likewise, her food styling projects are collaborations with designers, photographers, and friends. "It helps that I tend to work with people who trust my creative intuition and let me try more absurd ideas."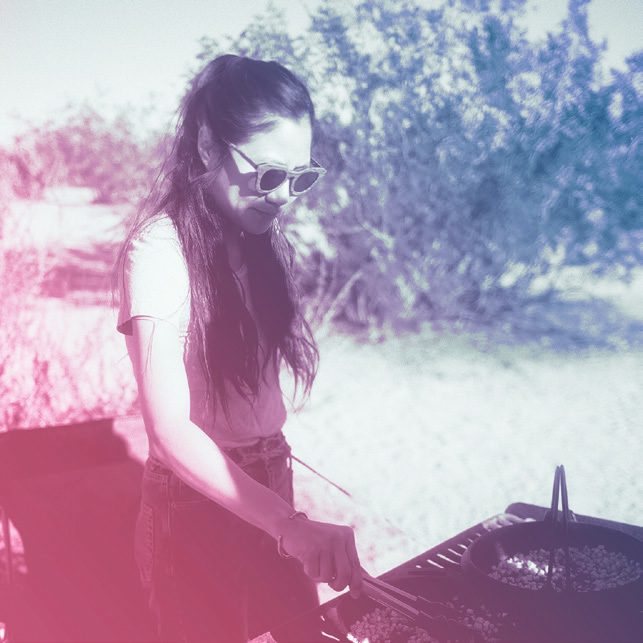 This fall, Cho will be completing a residency at Pocoapoco in Oaxaca, Mexico, where she will be conducting research on the Korean-Yucatec diaspora. Her plan is to generate a chapbook that traces two or three recipes that were adapted by Korean laborers who settled in south eastern Mexico during the early 20th century. Cho is thrilled to be working on the project. "For me it's about preserving the traditions of food, tracing their origins, and understanding them."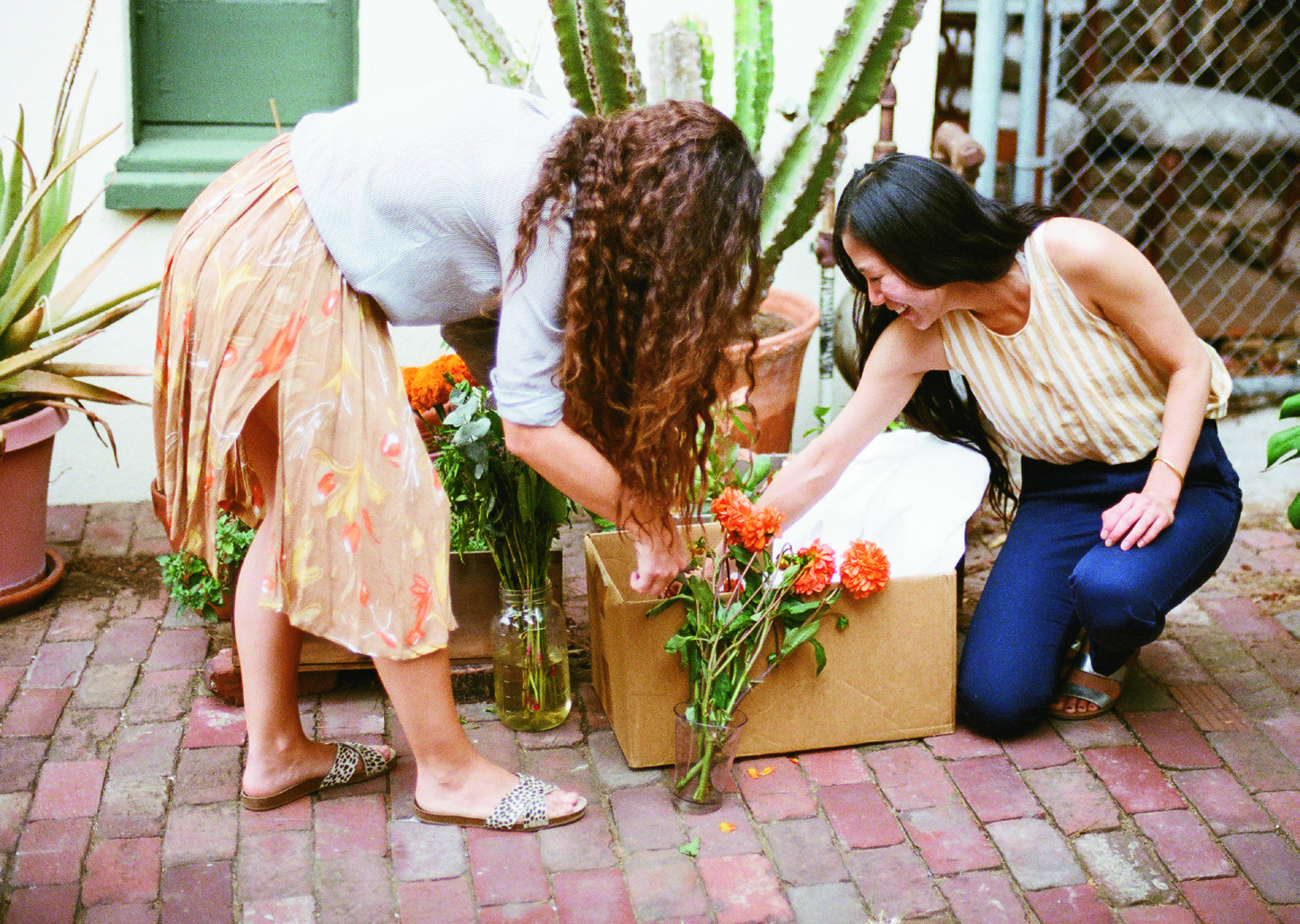 ---
Max Gualtieri
(Music BFA 11)
Joules & Watts
Coffee
Just over a year ago, Max Gualtieri, an accomplished guitarist and audio engineer, was teaching music lessons and touring with several bands. Now he's the co-owner of Joules and Watts, a coffee roastery he runs with his partner Christina DeMeglio.
Gualtieri calls himself a natural maker: besides making music and records, he has tried his hand at beer and wine. "But there's so much more depth in coffee," he says. "It started out as a quest for a really good pour over, but I really got into it." Then an opportunity: friends offered up their empty storefront near Beverly Grove for Gualtieri and DeMeglio to host a coffee pop-up shop for three days in June 2018. "I had zero barista experience then," says Gualtieri. "It was nerve wracking; I didn't sleep the night before." However, the pop-up was such a success that Gualtieri and DeMeglio decided to pursue Joules and Watts with gusto. To learn the ropes, Gualtieri snagged a job as a barista at Cognoscenti Coffee in Culver City and dove headlong into learning all he could about coffee.
About two times a week, Gualtieri conducts a "cupping," a methodical, blind taste test of sample roasts of different kinds of beans. For a roastery, buying raw product (green, unroasted beans) from a distributor is a significant investment, so Gualtieri wants to make a sound choice. The other reason for these twice-weekly taste tests is practice: Gualtieri plans to take the Q Exam this fall, which is a rigorous in-person test that evaluates a subject's sensory and olfactory skills, and their ability to identify various aromatic compounds and acid profiles found in coffee. The Q Grader certification will certainly give him "sharper elbows" in the industry, but these cuppings are also improving his relationship to his craft. "Tuning my palate is exactly the same as ear training," he says. "Being able to taste the difference between 'fruity,' 'chocolate-y,' and 'spicy' flavor profiles is exactly like being able to hear various frequencies when mixing a record."
For the time being, Gualtieri roasts Joules and Watts' single-origin coffee at Cognoscenti and distributes the coffee from home. While their coffee is primarily sold at select locations on LA's Westside, a lot of the roastery's business comes from its bustling mail-order subscription service—Joules and Watts ships their coffee both in and out of state. Gualtieri and DeMeglio's eventual goal is to have a dedicated space for Joules and Watts: a café and roastery where the pair can work directly with coffee producers. "A coffee shop is a natural way of bringing people together," says Gualtieri, "and it's a natural progression from the kinds of things I'm doing in music. Being a jobs provider and fostering a space that is safe and welcomes everyone is my biggest dream."
Gualtieri, who just sold his 1,000th bag of coffee, is just getting started. "Getting into your craft and blazing your own trail is something that was instilled in me at CalArts. To run a business like this you need to be relentlessly curious and open-minded. I rely on those skills every day."