"I really like how all these differences are trying to come together, finding a way to fight gravity together. The only way they can do it is through negotiation."
–Shirley Tse

Venice Biennale is known as "The Olympics of the Art World" for its international participation, and this year, CalArts students, faculty, and alumni have something to cheer about: robust representation.
Faculty members Shirley Tse (School of Art) and Christine Wertheim (Critical Studies) were invited to participate in Biennale Arte 2019, held May 11 through Nov. 24, with the theme, "May You Live in Interesting Times." Also participating were alumni Cameron Jamie (Art BFA 95), Henry Taylor (Art BFA 95), Kaari Upson (Art MFA 07), and Charlotte Prodger, who spent a semester at CalArts while earning her MFA from The Glasgow School of Art in 2009.
Tse was thrilled and honored when her native Hong Kong extended an invitation to show at the event—especially when she realized that she's the first woman to ever land a solo show for the Hong Kong pavilion. "I am the one who broke the glass ceiling," she says, still in awe. "That is amazing."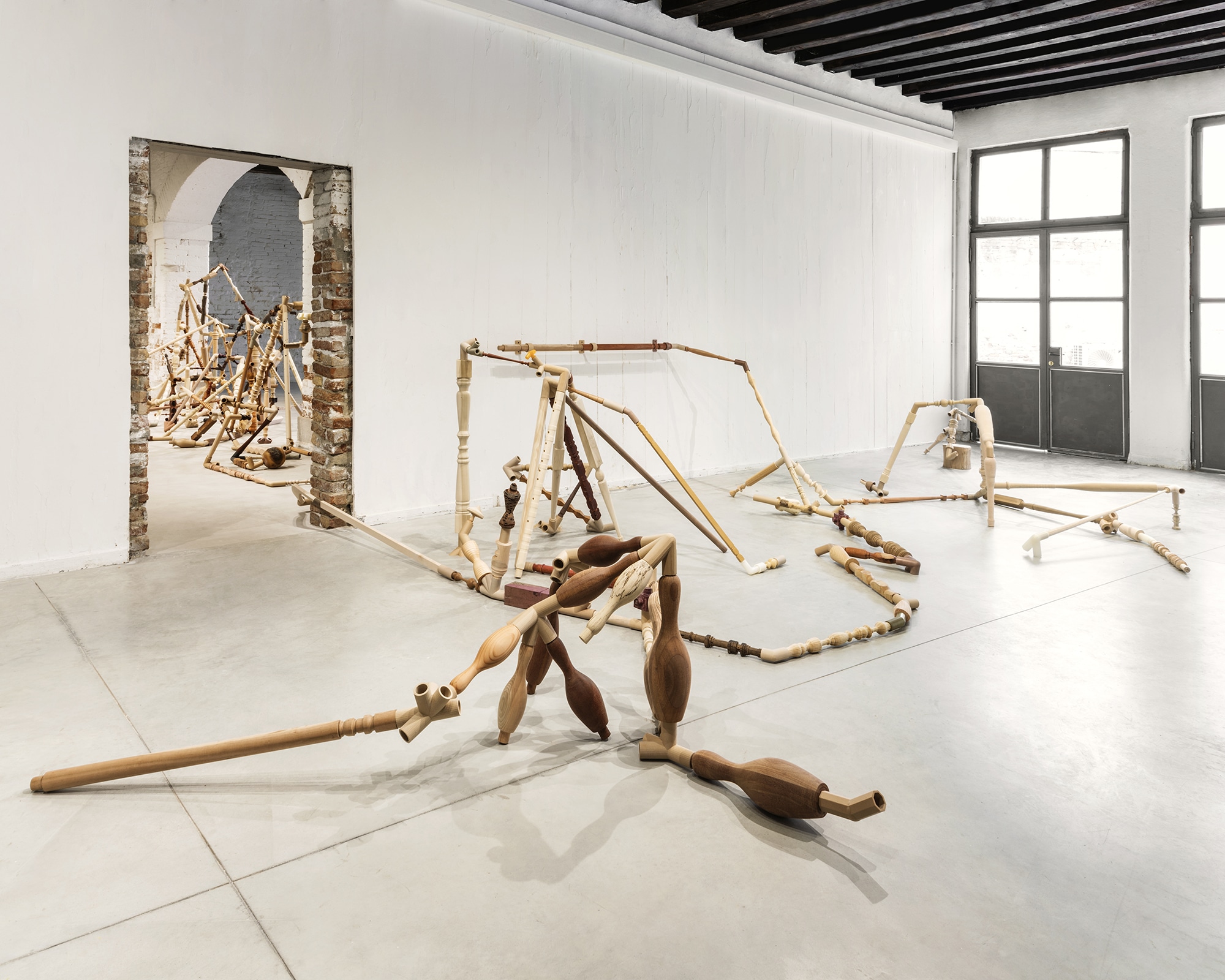 Shirley Tse's Negotiated Differences
Her exhibition, titled Stakeholders, Hong Kong In Venice, includes two installations. Negotiated Differences consists of lathe-carved wooden objects that Tse connected using plastic joints created with a 3-D printer. "I really like how all these differences are trying to come together, finding a way to fight gravity together. The only way they can do it is through negotiation," she says. The second work, Playcourt, was inspired by Tse's childhood memories of playing badminton in the streets of Hong Kong. In creating this work, which includes tripods poised for action, she explored themes of colonialism, communication, and trade. "I imagine the birdie—which is made of vanilla bean pods and rubber, trade products of the colonial era— flying back and forth along the two ends of the court; it's like trading routes," Tse says.
Wertheim and her twin sister, Margaret, began dreaming up their work, Crochet Coral Reef, nearly 15 years ago. That's when the two began crocheting curvy objects, called hyperbolic planes (the technique was invented by mathematician Daina Taimina, an associate adjunct professor at Cornell University). When Christine deviated from the formula and switched to using fluffy, sparkly, colorful yarns, she noticed that the result resembled corals. "One day, I casually said, 'Oh! They look like corals; we could crochet a coral reef.'" They did just that, inviting others around the world to participate in the endeavor, too. In Venice, the reefs are on display in glass vitrines and hanging from the wall. "The whole effect evokes the experience of both seeing corals underwater, and being in an old-fashioned natural history museum," says Christine. "It is also about technology and craft and oceanic life."
Both Tse and Wertheim were honored to see their works on display with beautiful Venice as a backdrop, and the two faculty members agree that 2019 is a special year, in part because they were able to see so many artists with CalArts ties. "Six people from one institution in one year is pretty amazing," says Wertheim.
"The whole effect evokes the experience of both seeing corals underwater, and being in an old-fashioned natural history museum."

–Christine Wertheim